Reflections With Ubong Usoro: New Year's Resolution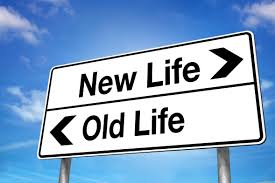 A Very happy new year to you all. Am so delighted to be a part kof year 2018, and I believe that God will see us into safely into year 2019. I commend you for the support in making this dream come true, so far 'Reflections with Ubong Usoro' is a year old and by God's grace this year we will achieve more in our quest for quality activism using writing as a sacred tool. I implore you to continue to speak up in your various fields of endeavour, we can actually rescue this nation from the grip of destruction, but it will only begin by your desire to achieve that, and the way you work positively towards achieving that.
This time of a year is a time many set out, resolutions as to what the want to achieve and I believe you have drawn out your own plans for the year. Let's take a look at what it all means.
HISTORY
New Year's resolution is a tradition, most common in the Western Hemisphere but also found in the Eastern Hemisphere, in which a person resolves to change an undesired trait or behavior, to accomplish a personal goal or otherwise improve their life.
RELIGIOUS ORIGIN'S
Babylonians made promises to their gods at the start of each year that they would return borrowed objects and pay their debts. The Romans began each year by making promises to the god Janus, for whom the month of January is named. In the Medieval era, the knights took the "peacock vow" at the end of the Christmas season each year to re-affirm their commitment to chivalry. At watchnight services, many Christians prepare for the year ahead by praying and making these resolutions.
How to Succeed at Keeping Your New Year's Resolutions
Over the years, its been discovered that many of us do not keep the things we had planed to do at the beginning of a year, so am sharing some tab!ets that will actually help you succeed at keeping your resolutions.
1.Be Ambitious Yet Realistic
When you set goals, being realistic beats being overly ambitious every time. It's much easier to start small then scale up as you gain momentum. Select a goal that is feasible and within reach given your current life circumstances. For example, imagine that I want to go to the gym seven days a week, not taking into consideration that am a student and will have to attend early morning class some days, and on Sunday I have to be in Church early. So, such resolutions may not be achievable at the end of the day.In the example above, it would be wise to realize that the gym might be a barrier to your success and look online for exercise routines you can do at home with minimal equipment. Establishing a routine of working out and then increasing towards five days a week, may provide for a more reasonable approach to getting started. Learn to be realistic.
2. Team Up
People tend to gravitate towards the behaviors and norms of their peer group. Peer accountability and social support groups can be powerful tools in reinforcing and supporting the change process. Try to find a partner or a group of people who are working towards the same goal that you are to be a support system – and who hold you accountable when you falter. I don't joke with this and I umderstand the power of working with a strong team towards acheiving resolutions. Although nothing will beat face-to-face interaction, with the advent of social media outlets, finding peer groups for social support and accountability are more readily accessible than ever before.
3.Redesign Your Environment with Healthy Cues
We are products of our environment, and the behavioral cues around us have a powerful effect. As humans, we tend to seek pleasure and avoid discomfort. If surrounded by unhealthy cues, we're likely to fall back into our old habit no matter how hard we try. If you're trying to eat healthy, purge your shelves of junk food and stock up on fruits, vegetables and healthy snacks. If you want to cut down on drinking, throw the beer out of the refrigerator and avoid situations in which you will be likely to drink. If you want to go to bed earlier to get better rest and watching TV late into the night is what is keeping you from accomplishing that, then remove the TV from the bedroom or cancel the cable subscription. As long as the environment has all the cues and temptations to engage in the old habit, you are going to have a more difficult time moving over to the new behavior or habit. The goal is to cultivate healthy behaviors by creating an environment that encourages better choices and minimizes alternative choices.
4.Accept Failure as Part of the Process and Persist On
When you're trying to commit to change, failure is not the end of your progress; it's part of the change process. It's very likely that you will relapse into your old behaviors or habits at some point. However, that doesn't have to mean the end of your journey to change. Just recognize that you've slipped, recommit to your goal and go back to the process. Don't let self-doubt turn one small slip into an abandoned resolution. Remind yourself that to learn or change anything requires being able to stick with something, and as you stick with it, things become more automatic and easier to do. So, stick with your goal and keep persisting despite setbacks that come along the way.
5.FEEL FREE TO START FRESH
Want to try again? Remember, a resolution doesn't need to be tied to New Year's. It can be following a weekend, and especially a week by week resolution is most preferred by me.
God bless you as you achieve your goals this year. A very prosperous New Year to you all.
Comrd Ubong Usoro
Ubong writes for TheNigerianVoice.Com, He lives in Uyo.
en
SOURCE :The Nigerian Voice (opinions)