Religious Diversity Is A Blessing – Gov. Obaseki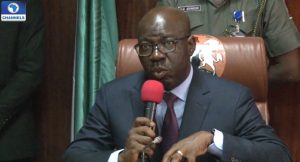 The Edo State Governor, Godwin Obaseki, has implored the citizens to show more respect for the religious diversity in the state, which he said adds more strength.
He stated this position when he received a delegation from the Nigeria Supreme Council for Islamic Affairs (NSCIA), Edo state chapter led by its chairman, Mr Yusuf Bako, in Government House, Benin City, the Edo state capital.
The Governor said,"We have to respect our diversity that is the strength of the state, as all Nigerians are represented here in Edo state, the diversity is what has made us special and unique".
He also maintained that the inter-religious body is needed now that the peace in country is being threatened by insecurity, adding that a regular meeting between the Christian and Muslim bodies constituted in the state early 2017 will help tackle the security challenges.
Earlier in his address, Mr Bako solicited for piece of land within Government House for the building of a mosque for Muslims to worship.
He equally appealed for allocation of a wider plot of land within the state capital for Muslims in the state to worship.
SOURCE: Channels Tv