Reps reject bill to establish South-East Development Commission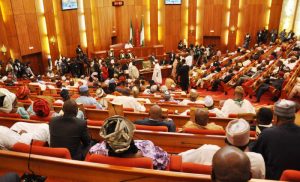 The House of Representative was, Thursday, thrown into a rowdy session after members, particularly those outside the South-East region, disagreed on a bill seeking to establish the South-East Development Commission over its timing, leading to it being stepped down. The lawmakers who disagreed argued that much consultations were not carried out before the bill was presented to the house.
The development which angered the South-East lawmakers saw them immediately voicing their displeasure over the development. The South-East Development Commission if established would be charged with the responsibility, among other things, to receive and manage fund from allocation of the Federation Account for the development, reconstruction, and rehabilitation of roads, houses and other infrastructure, as well as tackle the menace of poverty, ecological problems and any other related environmental or developmental challenges in the South-East states and for other related matters (HB 915).
While leading the debate on the bill, Honourable Chukwuka Onyema said the commission is one of unity and inclusiveness, and has the potential to douse all tension and agitations in the South-East region. However, when the Speaker, Yakubu Dogara put the question, the nay sayers got the majority and it was stepped down.
Vanguard
en
SOURCE :The Nigerian Voice (business)