Reps Reject Proposed Amendment To Remove State Governors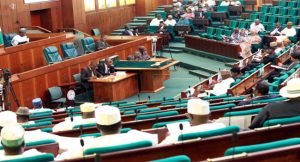 The House of Representatives has rejected an amendment to the 1999 Constitution that will empower the National Assembly to remove a State Governor or his deputy.
The lawmakers kicked against the bill sponsored by a member from Plateau State, Honourable Edward Pwajok, on Wednesday at the Lower Chamber.
According to the sponsor, the bill seeks to amend Section 11, subsection 4 of the 1999 Constitution, thereby extending the powers given to the National Assembly by the constitution to take over the legislative duties of a state.
"A situation may arise one day where the Governor himself may be the one that will instigate the crisis that would warrant us to invoke the power to remove the House of Assembly. Mr Speaker, let's go back to the situation it was in 1979," Honourable Pwajok proposed.
In their response, some lawmakers described the bill as "impractical" and an attempt to "give the National Assembly too much powers".
"The powers that the National Assembly currently has to temporarily take over powers of the House of Assembly should not extend to as the bill is saying, removal of a Governor or a deputy," Honourable Chukwuemeka Ujam from Enugu State said.
"And anybody who has problems with his governor should go home and settle it; to say we should remove people's governors for them is not going to happen," Osun State's Ayo Omidiran added.
The proposed amendment was however, withdrawn by Honourable Pwajok who tasked the House to passionately defend Nigeria's Federalism at all time.
SOURCE: Channels Tv