Revealed: 20 Facts About Anambra Airport City Project #ObianoEffect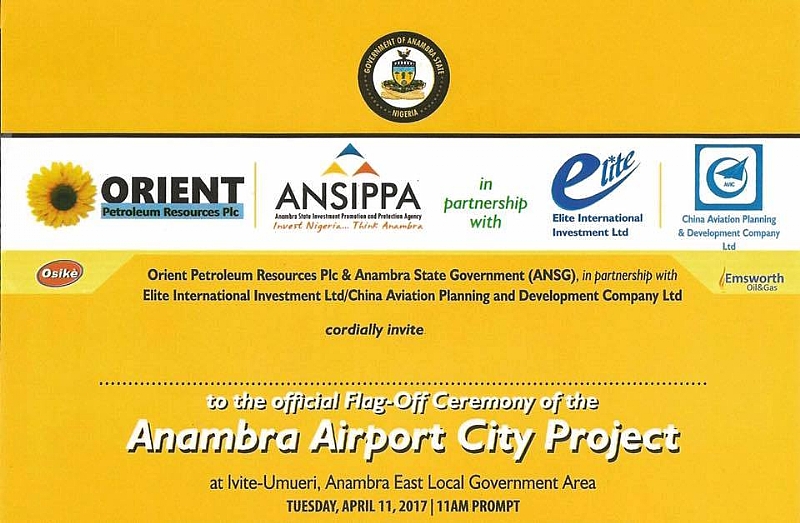 1. The project is an Aerotropolis, an Integrated Modern City comprising an International Airport with 2 Runways, Malls, Industrial and Business Parks and Airport Hotels.
2. The project will create 1200 direct jobs and over 6,000 indirect jobs.
3. The project will be sited at Umueri, Anambra East LGA of Anambra State
4. The project has 75 % of the jobs reserved for Ndi Anambra.
5. The host community (Umueri) will receive in perpetuity 3% of the profit via Corporate Social Responsibility.
6. The project will cost 2 billion dollars.
7. The project will be executed under BOMT (Build, Operate, Manage and Transfer).
8. The Partners for this project are Anambra State Government, Orient Petroleum Resources Plc. and Elite International Investment Holding Limited, China Aviation Planning & Development Company Limited with Osike Synergy Nigeria Limited and Emsworth Oil & Gas Limited as Facilitators.
9. The partners are interested in building rail lines across the State and possibly inter-connecting the South East region.
10. The project will be ready in three years.
11. The project will cause economic boom for the State increasing revenue and facilitating private enterprises.
12. The project involves skills transfer.
13. The project has capacity to land any known aircraft and cargo planes.
14. The project involves an aviation fuel dump (First in Nigeria) where aircrafts will fly in to refuel.
15. The project contains an aircraft maintenance facility.
16. Other facilities include; Passenger and VIP Terminal, Taxiways and Aprons, Fire Station, Control Building and Towers, Aviation Fuel dispensing facilities, airport cargo sheds, aviation training and services buildings, airport multilevel car parks, airport recreational areas, China wholesale depots, emergency service centers, etc.
17. The project will facilitate the export of agricultural produce such Anambra Rice, Vegetables and Tubers of Yam.
18. The project will facilitate trade and business relation between ndi Anambra and China as well as other international business destinations.
19. The project will unleash the untapped potential of increased trade and commercials, manufacturing, innovation, technology transfer, SME growth in Anambra State.
20. The project will create a whole new world of economic opportunities for the South-East.
SOURCE: The Nigerian Voice (opinions)