Revenues Waste Away As Bayelsa Housing Assets In Abuja Waste Away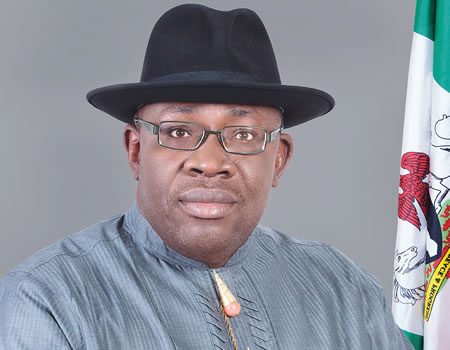 Twenty one year's after creation in 1996, Bayelsa State, has struggled to tap abundant internal resources to add to the enslaving federal allocations in order to realise the developmental goals for which it was created. Its intention to quickly lay solid foundation for development was slowed down, basically by non-allocation of take off grants by the Late Sani Abacha regime and youth crises.
Undeterred, the state, which is among the six created last in Nigeria took off with stunning faith from few unbefitting existing buildings in Yenagoa, the capital. Since then, most of its endowed resources are yet to be fully explored, somehow due largely to Federal laws depriving her.
Apart from the politicised natural resources of oil and gas, houses built or acquired by it, have not been fully harnessed for administrative and economic benefits since birth in 1996.
At Yenagoa, the state capital, the state has been hosting many Federal establishments in most of its buildings, free of charge, except for few employments. The hospitality of the state is costing it loss of huge revenues, and needs to be tackled. This is one problem in the failing federalism in which the centre has too much powers, yet serviced by the states.
In Abuja, where the state has standard houses located in cosy places the need for properly harnessing them for administrative and commercial uses is even more compelling, considering the cash paralysis occasioned by economic recession.
Bayelsa State, though younger than most states, has a good number of viable houses in choice locations in Abuja, better than those of some other older states and a few created same year with it. Such houses owned by Bayelsa in Abuja, the Federal Capital Territory (FCT) are in serene and expensive areas such as Maitama, Wuse and Asokoro in the FCT.
Notable houses owned by Bayelsa in parts of Wuse are the Glory Land Court and the controversial Chelsea Hotel building seized from Late Governor D. S. P. Alamieyeseigha and believed to have been handed over to Bayelsa State. The mansion is lying fallow and depreciating fastly. Feeler tends to point out that there are still legal hitches likely encumbering the state from turning the hotel facility to a gold mine. If so, the hurdles can never be insurmountable, hence must be cleared in order to put the property to commercial use.
The Chelsea Hotel property and others in the FCT, owned by the state, served useful purpose of housing ex-militants for the Presidential Amnesty Programme under Late President Umaru Musa Yar'Adua and later Former President Goodluck Jonathan, while Former Governor Timipre Sylva was in power and up to the tenures of present Governor Seriake Dickson.
Since then, especially, when Bayelsa's son, Dr. Jonathan was President, the FCT administration showed security concerns about Bayelsa houses not properly put in to use in the city. Security agencies plotted to tackle the concern, if not for the genuine fact of the amnesty programme for which the property readily accommodated many of the participants, like transit camps, sometimes for later movements to other places that trainings took place.
Recently, it was reported by a radio station that security agents in Abuja harassed some occupants at the Chelsea building, for alleged security concerns. But two sources (names withheld) told our correspondent that it was a trumped up report made to a woman in the executive council of the Bayelsa Indigenes Association, based in Abuja. According to the sources, it was a skirmish among some of the occupants, but was over was blown.
Some of the other property in Wuse area, for instance the one called Glory Land Court and others, inherited from old Rivers State and others bought by the state during Late Alamieyeseigha's administration, have similar story of lack of optimum utilisation.
They are occupied at will and on self allocation basis. Classes of occupants are a few Bayelsans who are civil servants formally given apartments, sometimes a few political appointees during their tenure, Bayelsans who are not working as civil servants nor appointees at all, civil servants in the state not serving in Abuja, relations of primary occupants, non-indigenes put in by their Bayelsa friends or "landlords" for free or for moderate rents as well as Bayelsa civil servants who worked in the Abuja liaison office but sacked for misconducts. The property are seen by such individuals as their share of the state's cake, and are holding grip, while some real civil servants and political office holders serving in Abuja or those who are drafted there for occasional assignments are paying the usual cut-throat rents at their own expense, to Shylock landlords in Abuja.
The same is observed at the Julius Nyerere property bounded by the Rivers State Liaison Office, opposite Asokoro General Hospital, where there are similar classes of occupants. Some are genuine while others are not. There are non-indigenes who claim to be living there on arrangement of Bayelsans who are their friends. Sacked workers are equally still holding tight to the apartments they had, even as they have relocated to other cities for new jobs long ago.
Even when real staff are allocated such apartments, the occupants hardly leave, instead threaten actions with voodoo power.
Attempts by one of the top aides to Governor Dickson to use his security power to quit some occupants, especially those in the Asokoro house met brick wall.
What about Izon Wari, Alamieyeseigha's indelible mark in the FCT? Two third of the edifice is not in the hands of Bayelsa Government.
The magnificent Izon Wari is used by private companies such First City Monument Bank (FCMB), a private hotelier and others.
In his first tenure, Governor Dickson, irked by the development wanted to repossess the entire property back to government but for the said long term contract of leases entered into by the former administration of Chief Sylva. The contracts haven been done by a former government, were not actions of the former governor hence valid, and Governor Dickson wouldn't have easily won litigation for the state.
Presently, Bayelsa State uses one third of the building as Liaison Office and the Governor's Special Representative's office.
Located along Shehu Shagari Way, between Federal Ministry of Justice and Federal Secretariat in Maitama, Abuja, Late Governor Alamieyeseigha built the house, to serve as a transit camp for Bayelsans and Izons as well as a rallying point to make them stand tall in the FCT. The edifice, commissioned gallantly in Chief Olusegun Obasanjo's first tenure, with then Vice President Atiku Abubakar as guest was one remote cause of the political row between Late Alamieyeseigha and OBJ, who suspected presidential ambition alliance between his Vice and Alams and other then governors. In fact he might have suspected that the Izon Wari could be a presidential campaign house and a base for resource control campaign championed by Late Alams. Chief Obasanjo's absence as special guest of honour at the commissioning, covered by this writer for a local tabloid was connotative as was later affirmed by the political strife that later ensured.
Giving the dwindling allocations to Bayelsa State due to activities of militants, fall in oil production and low prices as well as economic recession, the state government planned to use its property, especially those in choice places in Abuja, as investments. On assumption of office, Chief Serena Dokubo Spiff who just resigned as Secretary to the State Government, went on a sight seeing visit to some of the state's property in Abuja, notably Izon Wari, with a view to make rational use of them.
But since after the visit by the former SSG, not much was heard nor seen about rational use of government assets in Abuja.
These recent efforts preceded Governor Dickson's foresight early in his first tenure that the state had a spendrift culture that made it and citizens to fritter away "awoof" money, a life style he said was detrimental to future development, hence his policies of transparency and saving for a rainy day.
As if he knew that Nigeria will plunge into recession to the extent that allocations and internal revenues will get to a
threatening low, that can not carry salaries, let alone projects, Governor Dickson ordered aggressive internal revenue drive.
Private Public Partnerships (PPPs) as well as State-direct Investments (SDIs) within and abroad were also strategized by the government to try to raise revenues for development projects. The administration also set up some companies, including a state investment promotion company as well a state property investment company in order to realize it's investment and revenue targets.
The state property investment company has mandate to ensure rational economic use of the government's landed and housing assets within and outside the state, those built or acquired by government singularly and in partnership with others as well those seized from alleged looters and forfeited to the state.
The state property investment company is said to have inspected government property in Abuja to see how viable ones could be turned into investments. But words are yet to be matched with actions, even the state continuous to yearn for more revenues for development.
Comparatively, other states are using their houses in Abuja as revenue spinning gins, in the forms of guest houses operated by state or contracted managers as well as rents and leases to companies, local and foreign NGOs, other state governments, Federal Government establishments and international governments. Equally, the houses of other states in the FCT are being effectively coordinated as rallying points of unity for their indigenes and guests just as civil servants and public officials are formally assigned apartments.
In view of the harrowing economic downturn experienced in the last two years, which not only affected salaries, projects, special savings fund, but may have have also caused the low ranking of Bayelsa in terms of investments, as issued by the National Bureau for Statistics (NBS), government needs to make more rational use of its fixed assets in Abuja.
The houses in other cities, for instance, the liaison office buildings at bishop Oloyede Street, Victoria Island in Lagos, inherited from Rivers State, is another choice area in the country, that could also be turned into investment of any sort.
Really, there will be no optimal benefits to Bayelsa State if her viable fixed assets in Abuja and elsewhere are left as free-for-all property, without coordination for official residency for workers as well as for commercial purposes.
en
SOURCE :The Nigerian Voice (opinions)