Reverse Anti People Land Use Charge, ADP Urges Ambode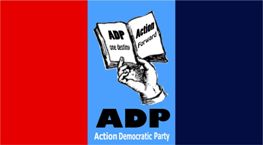 By Action Democratic Party (ADP)
The Action Democratic Party (ADP) has called on the Lagos State Governor, Mr. Akinwunmi Ambode to immediately reverse the new obnoxious land use charge recently announced by his government.
The Spokesman for the party in Lagos, Prince Adelaja Adeoye while interacting with newsmen on Wednesday in Lagos said that the new land use charge will geometrically increase the hardship Lagosians will face, urging the governor to retrace his steps immediately because of the ripple effect this decision will cause.
ADP argued that even if the state government is out on an aggressive revenue drive, it should not be done in a manner that will further wreck the already poor and struggling majority in the state.
The party said that the implication of the new land use charge is that, landlords across the state will increase rents to match the new charge and inevitably, this will result to more Lagosians becoming homeless. Adelaja asked about the achievable palliative measures put in place to check the expected mass exodus of people from their homes as a consequence of this action.
The ADP said that government exists for the people and that the same people are not supposed to suffer in the hands of those who are serving them as a result of callous policies and decisions.
The party also said that they have watched with keen interest, the media push to shove the new LUC down the throats of Lagosians, using celebrities to create the impression that people have been rushing to the banks to pay; the party says that this is far from the reality on ground because landlords and tenants are miffed by the new development.
The party also condemned the new motor vehicle registration rates released by the Lagos state government, saying that all the policies of the APC are targeted to further impoverish residents.
ADP has assured Lagosians that they are ready for governance and ready to bring smiles to the faces of residents unlike the arrogance exhibited by the current APC led government in the state. The party urges residents to register to vote in 2019 because it will not be business as usual this time around.
en
SOURCE :The Nigerian Voice (local news)