Rochas' Forthcoming APC Reconciliation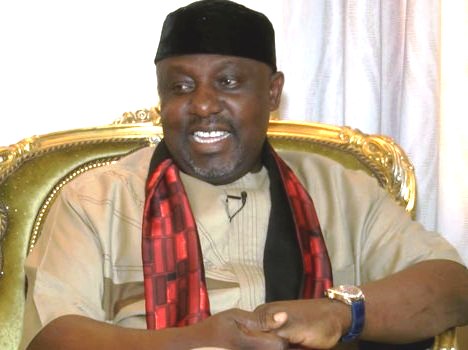 At last, Governor Rochas Okorocha, the apex leader of the All Progressives Congress (APC) in Imo State, is set for a millennium party reconciliation. He is resolute to heartily reconcile the factions and crises rocking the party in the State for nearly four months now. Of a truth, this is the greatest sacrifice and exemplary living from any Governor- Past and present in the country since the inception of contemporary democracy in 1999.
The Imo APC has been balkanized by crises of interests, ego tussles and counterforce stands against alleged tyrannical leadership (that occasioned ploys to foist consensus candidate on the party with protracted endorsements at different levels of representative democracy in the State), by ploys to eliminate possible oppositions and structures that could debar success. There are also strategized mudslinging, dedicated vituperations, and calculated vilifications, surprising betrayals and reneging, verbal assaults on personalities, as well as in-group and out-group skirmishes, etc, from both warring parties- First between the Rescue Mission and Agenda camp, and later enlarged into Agburu Anyi and Coalition of APC Allied Forces.
The causes of the crises are multifaceted and worsen as ploys, antics and intrigues unfold daily. These notwithstanding, General Yakubu Gowon still lives- 'No victor, no vanquish!' In one Imo APC all stand. Of a truth, this giant stride is divinely and plausible, unbelievable that at last peace will reign in Imo APC. May it be well with Governor Okorocha and the Coalition leaders!
In his resolution to remain the best Governor of the State since its creation in 1976, Rochas Okorocha aims at having the APC rule Imo State for at least 24 years, a dream that out-stays PDP's reign, in piloting the affairs of the State. In earnest, he got trustworthy political associates, groomed and built them tough on career ascent, aiming at making them Czars and Czarinas in the State. Unfortunately, some egocentric political advisers and affinal-pressures sold the idea of Uche Nwosu succeeding him to the Governor. They brought ideas and strategies, schemes and plans for its success, only for them to discover the reality of human factor before ideation. Some of them purported staying power, while others are cowards and flew, and very few that remain, which have interests in elective politics now soliloquise in indecision and perceive selves as at crossroads.
Men who are men regrouped for resistance and the Governor bethought that keeping them estranged makes superiority and for success. He forgot, nay, his advisers forgot that to isolate an enemy necessitates making sure that he lacks all means of repaying the isolation. The (enemy's) group dynamics- Both the Rescue Mission (Agburu Anyi) ploys and the Coalition ploys, (consider each other as out-group and) were not well studied and understood by the factions, and thus they hoist the party into splits, with no one group definitely ridding triumphant over the other, but all end in puerile conquests and pyrrhic victories.
Now the deed is done and the party is provisionally rendered into shreds, what next? Peace! But who takes the bold step first? Ego tussle for sure would not allow any to rise up first, as such step seems weakling. But a peacemaker is the most powerful specie of humanity.
Now the sun has risen on the rubbles after rain, the State's father has risen to put his house in order before his exit as he has less than one year left. It is incumbent for all the warring parties and every Imo APC chieftain to come together to ensure success in this giant strife; to rebuild the party. Let all the APC chieftains and concerned persons in the forthcoming reconciliation, which is fixed in two-fold meetings, be grouped into two sections or categories: The State Congress and the State Executive Committee. This group will hold the first session, and later, come all APC aspirants for the State and federal elective posts, for another session; all aiming at healing, restorations and ways forward.
At the table will be sorted out, such bordering issues as consensus candidates and level-play ground for all aspirants, delegates lists and congress' ratifications, group interests and equity in power shifts amongst the component senatorial districts in the State. Also to be resolved are the government's policies and projects that are now perceived in the State as anti-people, thus bringing public hatred and demeaning popularity for APC in the State (which may mar the party's success at the general elections), as well as party officials welfare and benefits, due process and reversal of interests, etc, are to top discussions at the reconciliation conference, which has the President, National Party Chairman and national party leader or their representatives present. Rochas has already informed them and they consented.
There is no gainsaying the fact that opposition parties in the State rejoice daily over the crises in Imo APC; plotting ahead strategies for the 'after primaries.' Less than 80 days to party primaries, Imo APC still wars in-house. Now the die of peace is cast, Imo APC is poised to be the strongest party to beat as the crises have raised great political consciousness to the grassroots, which has formed structures that when joined, will see almost all APC candidates vying for different offices successful.
To destroy idealism, the best is to posit existence. To destroy enmity, posit love. To destroy crises, posit peace-moves and dialogue. To destroy discrimination as Imo APC has Agburu Anyi, posit Mahatma Gandhi's 'All men are brothers.' To destroy Coalitions as in Imo APC today, posit Aristotle's principles of equity and fairness. To destroy suspicion, posit openness and truth as Lefvre stresses. To destroy tyranny and extremism, posit team-play and accommodating spirit.
But there hangs the possibility of this reconciliation not being successful. What if the Coalition group rejects the reconciliation bid? This doubt gives birth to a possible U-turn option, targeting one of the arrow heads, and thus stirs the sheep. If Araraume is reconciled with Okorocha, getting what he wants, which is a position meant for only one man that can never accommodate the entire members in the Coalition, it is a good option; after all, politics has no permanent enemy or friend but permanent interest.
The groups' dynamic has only two strong heads from each of the component senatorial districts. Araraume and Uwajumogu for Okigwe, Izunaso and Uzodinma for Orlu, and Eze Madumere and Jude Ejiogu for Owerri. If Governor Okorocha turns to Owerri zone, which has 60% success-chances, giving them level-playing ground or backing Madumere or Ejiogu for the primaries, the Coalition is cracked and bent for death. It is certain that as it stands now between the two warring factions in Imo APC, any one that first picks or backs an Owerri zone candidate as Governor will destroy the strength and chances of the other succeeding in the party primaries in August.
It's a matter of interest. Imagine pairing Eze Madumere (as Governor) and Araraume (as Deputy), Agburu will have nothing again to offer. But in a reversal, Agburu stays strong in the fight. Imagine Eze Madumere as Governor and Uche Nwosu as Deputy, will Madumere not flee the Coalition and Ejiogu returns home in support? Imagine Chima Anozie (as Governor) and Uche Nwosu (as Deputy), Coalition will fight to lose as sympathisers will flee to them for support and identification, but a reverse will pull contemptuous primaries that bear uncertainties.
But ahead of the reconciliation, think about removing the major warring actors, and pair Chima Anozie (as Governor) with Chike Okafor or Chima Uju. Imagine also picking the major actors on the stage, and pick Araraume (Governor) and pair him with Uche Nwosu (as Deputy), what remains to be strategized on? These options must be studied in line with group dynamics and reposition the party as we enter the month of June and the reconciliation hall.
Owerri zone APC aspirants are panacea to lasting peace and synergy in Imo APC, given the erupted crises and their diverse profundities. The zones' most popular APC aspirants (Chima Anozie or Eze Madumere) should be paired with an Orlu zone (Uche Nwosu or Henry Okafor/ Chima Uju) or with an Okigwe (Chike Okafor or Acho Ihim), while Araraume is penned for Ministerial post and Jude Ejiogu/Emma Ojinere be supported for the Owerri Senate. Gov Rochas Okorocha should go to Orlu Senate and slog it out with whoever dares, Uwajumogu returns to the Senate and Sam Onwuemeodo goes for either IMHA or Federal House of Assembly.
I enjoin the good and peace-loving people of Imo State, especially Imo APC, to open up for the forthcoming reconciliation as there is nothing beneficial that comes in crises. Crisis is an antithesis, which needs reconciliation as synthesis; which brings way forward.
Dear reader, let's applaud the peace-loving Governor of Imo State for this great stride and turn to reposition Imo APC into one happy and united family. But of a truth, this reconciliation is all but a dream I had in the night. But as my dreams never fail to come true, I am certain that the Governor has the reconciliation options bordering him and it is imminent. We continue to shine for Jesus!
en
SOURCE :The Nigerian Voice (politics)