Sanusi blows hot against Northern Leaders, says nobody can stop him from saying the truth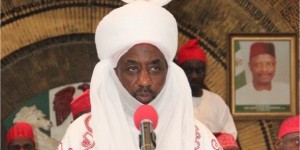 The Emir of Kano, Muhammad Sanusi II,has said that no intimidation or character assassination will stop him from telling what he considers the truth.
According to him, the attacks and insults that his statement attracted to him  were aimed at diverting attention from the important issues he raised, which he said,  were facts and not fiction.
Sanusi at the inaugural Annual Chibok Girls Lecture, spoke against the background of the controversy that followed the speech of  in which he stated that the North-east and North-west regions of Nigeria are the poorest parts of the country.
the attacks and insults that his statement attracted to him  were aimed at diverting attention from the important issues he raised, which he said,  were facts and not fiction.
"There are those who believe these attacks are aimed at discrediting me personally but even if that is the objective it will be discredited by what I have done and not by insults and lies on the social media. And in any event, personal criticism has no impact on the issues," he said.
Sanusi  was represented by his daughter, Sahida Sanusi, at the event.
He said that based on statistics, over 70.8 per cent of women in North-west are unable to read and write compared to 9.7 per cent in the South-east zone, while adding that that more than two-third of 15 to 19-year-old girls in the North are unable to read a single sentence compared to less than 10 per cent in the South.
He lamented that about 78 per cent of adolescent girls are in marriages in the North-west, 68 per cent in the North-east and 35 per cent in the North-central, adding that the numbers clearly mirrored the regions that are poorest in the country.
"These statistics are not flattering. And they speak to a truth that is inconvenient to most of us. The culture of silence must end. We have a problem. In fact we have an existential crisis. And all of us in this country, politicians, intellectuals, emirs and traditional rulers, religious leaders, businesses, NGOS have to come together to solve this. The real patriots in the North are those who are honest enough to accept this reality and insist on change," he said.
He stated that poverty in the North and in Nigeria, was as a result of decades of failed social policy adding that it was only by recognising this and accepting it that the nation can even hope to make progress. "We are dealing with an anti-intellectual environment, and with people whose failure has bred a sense of insecurity which leads to incomprehensible, almost insane, reactions to simple advice.
Secondly, that these problems are deep-seated and have been there for a long time so changing mind-sets will be a difficult and painful process. Finally we must never succumb to the temptation to join our opponents in the gutter. You may say what you like about me for as long as you like, so long as you address the issues. As Michelle Obama famously said: 'When they go low, we go high'," he said.
Sanusi who had earlier spoken through a recorded video stated that the choice of his daughter as a representative was deliberate so as to show by example the importance of girl-child education in the North and the consequences of ignoring the crises which could be grave.
While commending the #BringBackOurGirls group for still demanding for the release of the abducted girls, he called on the group to broaden it's message and advocacy to cover all girls and boys abducted by Boko Haram, and also draw attention to the condition of girls and women in country.
He wondered the type of society the girls will come back to meet as the kind of society the nation  has created was no doubt the root cause for the emergence of groups like Boko Haram and occurrences like the Chibok tragedy.
"Our interest should be in bringing back all our girls. But after these girls are brought back, shall we ask ourselves as well: where are they being brought back to? What kind of society? How much better is the 'normal' environment we all take for granted than Boko Haram camps,?" he queried.
The chairperson of the event, Prof Grace Alele-Williams stated that it was a shame that a country like Nigeria which boasts of being the Giant of Africa could not rescue the abducted girls.
Alele-Williams who is the first Nigerian woman to receive a doctorate degree, the first Nigerian female professor of mathematics education, and the first woman to be a vice chancellor of a university in Africa, spoke of the importance of girl-child education
SOURCE: The Nigerian Voice (local news)