Saraki: Limit (and burden) of arrogance!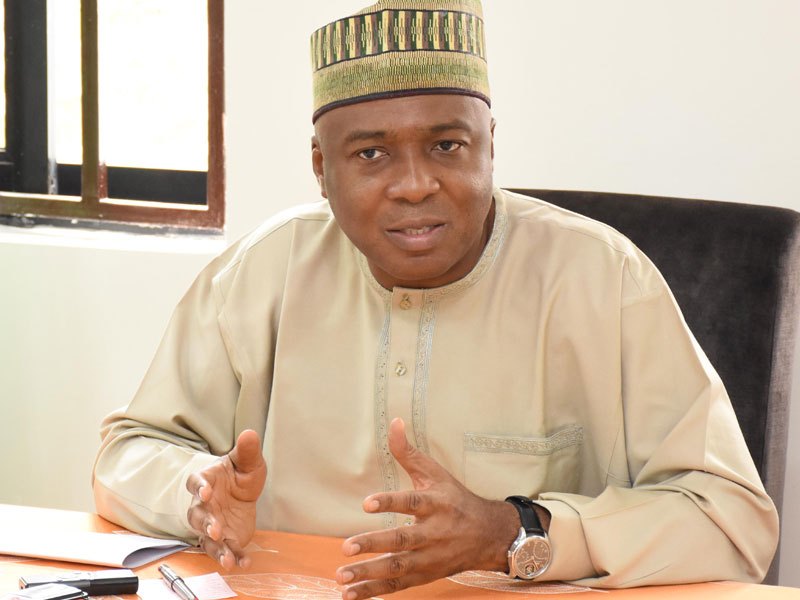 If further proof was needed of how desperate and devious Senate president, Bukola Saraki, could be, you got another one in an open letter addressed to him by Chief Edwin Clark, a former federal minister of information. In the letter, the prominent Ijaw leader and chieftain of the PDP simply told Dr. Saraki to climb down from 'your political throne' and back out of 'your arrogant ways'. Hear here!
Chief Clark's narratives graphically detailed the ignominious manner in which the Senate president disgraced and left his doting father, Dr. Abubakar Olusola Saraki, Wazirin Ilorin, a broken man! He also made reference to how Bukola Saraki spurned attempts by well-meaning Nigerians to reconcile him with his half-sister, Ruqayya Gbemisola, after the elder Saraki failed in his attempt. Not a few members of Baba Sola Saraki political family believe it was the humiliation the elder Saraki received in the hands of his son, Bukola, that hastened the death of Wazirin Ilorin.
Chief Chark's letter went public after Justice Danjuma Umar of the Code of Conduct Tribunal literally told the embattled Senator Bukola Saraki, that he had no case to answer despite the litany of heart-wrenching tales of degeneracy he was accused of. To be expected, the senate president and his handlers, led by the rambunctious and embattled Senator Dino Melaye were beside themselves with joy. Reports had it there were all-night-long parties for several days to celebrate the victory!
Left in the lurch after the judgment are the struggling people of Kwara state. The so-called State of Harmony, as Kwara state is known, is no longer in a state of harmony. Meanwhile, Justice Umar of the CCT has said he did not find any reason why Senator Saraki should have been docked! No matter! For now, the people of Kwara state can only continue to pray for justice to catch up with those who clog the state and wait for 2019 to revolt against their oppressors!
So far, few politicians have shown the capacity to court controversy as the controversy-prone Senate president! The man is simply amazing! From his better-forgotten eight years as governor of Kwara state, Dr. Saraki has displayed an unparalleled love for jaw-dropping controversies. and hardly does any high-profile case of scam break without the Bukola Saraki touch to it!
Take a cursory look at this to understand the Saraki personae: Panama Papers, Societe Generale Bank, opaque declaration of assets, money laundering, Paris debt refund, outright theft of public funds, forgery of official documents to gain undue advantage, illegal operation of foreign bank accounts, hijacked N381 million, importation of vehicles with forged papers, underpayment of import tax, among others! These are some of the stomach-churning oddities that have been traced to Dr. Saraki and members of his family.
As well as being adept at courting controversy, Dr. Saraki knows how to throw punches. He threw a barrage of punches in 2011 to revive his dimming political dream after opponents had literally announced his political obituary. He is so adept at throwing punches to have used his father as an example of how he could land telling blows. In his first major political bout, Bukola, deployed all foul tactics known to him to pummel his father, Dr, Abubakar Olusola Saraki, to a disgraceful and heartbreaking submission.
In turning against his father whom he literally disrobed and disgraced in the marketplace, it never mattered to the senate president that it was the same caring and doting father that fought several political battles to foster the political ascendancy of the same Bukola. The whacking the older Saraki took sent him into a coma he never survived!
Typical of men who punch indiscriminately, the options available to Dr. Saraki may be dwindling faster than he knows. The air of invincibility which he appears to have cultivated for himself may eventually be his undoing. One sign of things to come, hopefully very soon, is the desperate attempt by the senate president to get his pliable supporters in the upper chamber of the National Assembly to crown him acting president! It is becoming clearer by the day that Dr. Saraki's attempt to position himself a heartbeat away from the nation's top job in 2015 is counterproductive and his hope for a big outing in 2019 may have come to grief!
For Dr. Saraki, the pronouncement by the CCT chairman is a breather but even he knows too well that he will have to do more than clear the air of distrust created by his unrestrained love for bread. And, who knows! He may yet get his presidential bid on track if the multi-billion Naira defence team he put together upgrades its act and work extra hard to get him out of trouble. Whatever happens, Dr. Saraki has bitten more than he can chew and, the presidency, at least for now, should be the least of his worries. In a manner of speaking, his fowl has perched on a rope; neither the fowl nor the rope is at ease!
Chief Clark's direct admonition is for Bukola, 'the son of my bosom friend', to 'end your arrogance'! What the old man did not admonish directly is for Bukola to go weep his eyes out at the graveside of his father who went gone to his grave with a heavy heart! Still, what he refrained from saying is the words of elders to the effect that those the gods want to kill, they first make mad! Chief Clark is not the first person to so admonish; from all indications, he will not be the last.
The senate president has gone too far in his designs and does not need any piece of advice that distracts from his political ambition. He would not have treated his father so indecently if he was not blinded by ambition! For now, it may be convenient for Senator Saraki to pander to the interests of overblown and parasitic handlers who, for fear of losing their meal tickets, lead him the wrong way.
Some arrogance!
Magaji <[email protected]> is based in Abuja
en
SOURCE :The Nigerian Voice (opinions)