Saraki's Persecution By Executive Arm May Collapse Democracy- Huriwa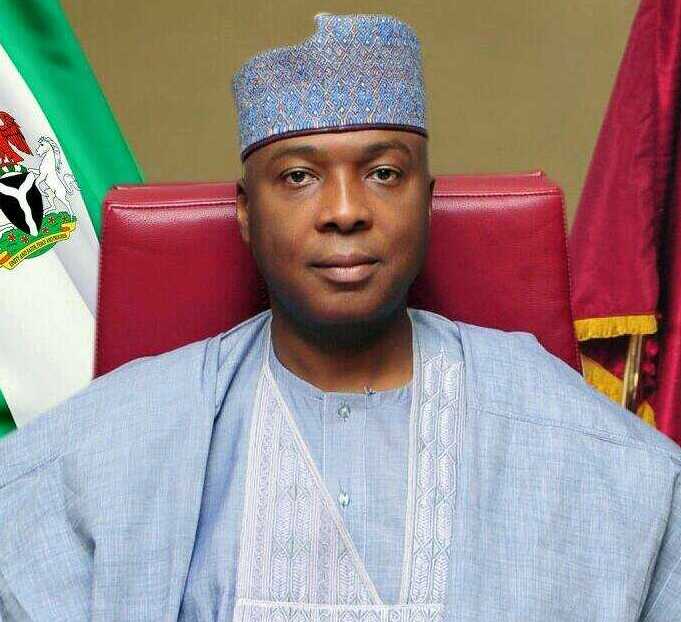 A prominent civil Rights organization- HUMAN RIGHTS WRITERS ASSOCIATION OF NIGERIA (HURIWA) has condemned the emerging dangerous scenario of deployment of the office of the Inspector General of Police Ibrahim Kpodum Idriss to go after leading independent political voices like the Senate President Dr Bukola Saraki; Senators Dino Melaye and Shehu Sani through contrived methods of using the so called armed robbery suspects to drop these names so as to seek to arrest them and prosecute them with the aim of derailing the independence of the central legislature and make way for a full blown dictatorship of the Cabal in AsoRock villa made up the Cousins and Nephews of President Muhammadu Buhari.
HURIWA in the media statement issued against the backdrop of the press statement from the Police Inspector General which purportedly alleged that the key suspects in the recent armed robbery attack at some locations in Offa, Kwara state including banks and police stations named the Senate President as a potential suspect. The group stated that the just issued statement from the Police confirms the alarm the Senate President and the Kwara State governor raised that the Force headquarters was plotting to frame up the duo of the Senate President and the governor of Kwara State who is a political follower of the number three citizen of Nigeria.
HURIWA in the statement by the National Coordinator Comrade Emmanuel Onwubiko and the National Media Affairs Director Miss Zainab Miss Zainab Yusuf stated that the current politically tainted police hierarchy has fully metamorphosed into the political armed wing of the Executive arm of government which has evolved a wholly illiterate and unsophisticated method of roping in high profile opponents of the President even those of them belonging to the same political party of All Progressives Congress.There is also a plot to go after leaders of the organised civil rights community seen as loud independent voices.
HURIWA has therefore repeated her call for the immediate dismissal of the Inspector General of Police Ibrahim Kpodum Idriss to save the Nigeria Police force from totally losing credibility and becoming a full blown fascist wing of a dangerously blossoming totalitarianism which if not resisted and defeated would make the Sani Abacha years a child's play. The group said the Inspector General of Police is grave threat to democracy and constitutionalism just as it asked Nigerians to rescue their Country from the impending implosion.
"We in the organised civil rights community are hereby asking Nigerians not to sit back idly and laugh over the sinister scenarios that are being weaved dangerously together with the absolutely and ruthlessly anarchic hierarchy of the Nigeria Police force under the current dictatorship. The slow but steady choreographed indictments for some phantom armed robbery charges being made against heavyweight political adversaries of President Muhammadu Buhari is a manifestation of the crude desperation to retain political power by all means in 2019 which is the handiwork of the cabal that are currently holding corporate Nigeria as a political hostage. Nigerians from all over the World must speak out before the democracy that we fought so hard to bring about is allowed to collapse into fascism before our faces. The time to speak out is now."
en
SOURCE :The Nigerian Voice (local news)