Seedorf : It's time Man Utd, Mounrinho considered what would work for club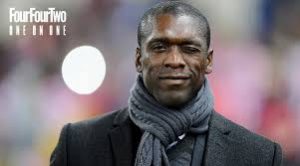 Cameroon manager Clarence Seedorf admitted he is unsure whether or not Jose Mourinho can bring success to Manchester United while comparing the club's situation to that of AC Milan.
The Red Devils are eighth in the Premier League and 12 points behind arch-rivals Manchester City in the table after a disastrous start to the 2018-19 campaign.
Mourinho has come under intense scrutiny for the team's negative displays on the pitch and has faced questions over his position at Old Trafford, despite being the club's most successful manager since Sir Alex Ferguson left in 2013 .
United have a negative goal difference of (-1) at this stage of the season for the first time since 1977, with 21 league goals conceded already and a fight on their hands to secure a top-four finish, but Seedorf believes the club is still in the middle of a transitional period.
"After Ferguson, it's just difficult," the former Milan midfielder told Sky Sports . "It's a transition phase still, and not only Ferguson but the players that he had.
"Once the last team of [Paul] Scholes, [Ryan] Giggs and [Wayne] Rooney fall away, it's a part of the club that leaves the heart of the team. To replace that you need to have patience.
"That's not only happened with Manchester United, it's happening in Milan but they need to keep on working. I think they have all the means to be able to stay competitive.
Next up for the Red Devils is a crucial league clash against Crystal Palace at the Theatre of Dreams on Saturday, before another home game in the Champions League against Young Boys three days later.
Mourinho's job is very much on the line and according to Seedorf, despite his considerable qualities and history of success at the highest level, he might not be the right fit for the club.
"He [Mourinho] definitely has an interesting track record," the ex-Netherlands international added.
"It's up to the club and him to understand whether his management still has influence and he can turn things around.
"He definitely has the capacity – I don't think we have to discuss Mourinho's qualities but sometimes things just don't go and that could be the main decision to stop working with each other."
Credit; Goal.com
en
SOURCE :The Nigerian Voice (sport)