Senate lacks powers to summon me: Prof Sagay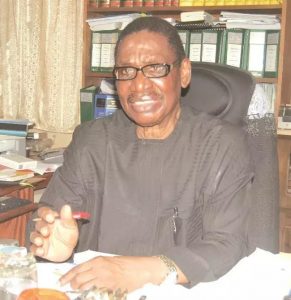 The  Chairman, Presidential Advisory Committee against Corruption, Professor Itse Sagay, SAN, said Wednesday that the Senate lacked powers to summon him to appear before it over comments he made about the character and behaviours of members of the upper chamber.The Senate invited him to appear before the committee to clear himself of the allegation and explain why he insulted the Senate as an institution.
The committee was given four weeks to submit its report.
But Sagay believes that  the lawmakers lack the powers to summon him, describing the invitation as   as illegal.
It cropped the same that the lawmakers suspended former Senate Leader, Senator Mohammed Ndume, over his petition calling for investigation into the allegation discrediting Senator Dino Melaye as a graduate of the Ahmadu Bello University, ABU, Zaria. It also cleared Senate President, Dr Bukola Saraki, over the Range Rover SUV Customs duty scandal. Ndume's suspension order followed the recommendation of the Senate Committee on Ethics, Privileges and Public Petitions which investigated the allegation.
Sagay's summon followed a point of Order by Deputy Senate Leader, Senator Bala Ibn Na'Allah, APC, Kebbi South, who directed the attention of the Senate to a publication in a national newspaper (not Vanguard), said that Sagay described the Senate's action calling on Buhari to sack Magu in two weeks, "as childish and irresponsible."
He said,  "There is no dispute as to the fact that today, distinguished Senator Na'Allah is a senator. If somebody with the status of Professor Sagay made this comment, it means this Senate is under obligation to invite Itse Sagay to come and name the questionable people that fill this Senate. It is very important at this stage of our political development. It is very important. I, Bala Ibn Na'Allah, I am not a person of questionable integrity. Let me equally say that no senator is of questionable integrity.
"For somebody in Itse Sagay's position to come and call this Senate irresponsible and that senators are childish and are of questionable character, it behoves on this Senate to call on him to appear before the Ethics and Privileges Committee to name the senators that are of questionable character."
Contributing, Senate leader, Senator Ahmad Lawan, who also picked holes in Sagay's comments, urged President Buhari to caution his aides on their utterances so as not to overheat the polity.
The Senate leader said: "I believe that if there is anything that this administration needs, it is cordiality, a relationship between the legislature and the executive. It, therefore, behoves every presidential aide, from ministers to the least in the ladder, to behave responsibly to encourage and sustain the very cordial relationship between the National Assembly and the administration.
"The Nigerian public has every right to criticise us, call us to order where we erred, proffer suggestions and way out where they think we need that. But I take special and serious exception when a presidential aide, instead of trying to bring together the two sides of government, would speak in this manner that is so divisive and necessarily creating tension between the two arms of government."
Senator Peter Nwaoboshi, PDP, Delta North, tried to stop the Senate from inviting Professor Sagay against the backdrop that it would amount to waste of time discussing the person of Sagay.
"I want to appeal, let us not waste our time on Professor Sagay, let us face important issues, national issues." However, the Senate rejected Nwaoboshi's suggestion as Senate President Saraki ruled that Sagay should appear before the Committee on Ethics, Privileges and Public Petitions. "I think this matter will be referred to the Committee on Ethics and Privileges and report back in four weeks."
But Sagay simply dismissed  the move as illegal and unconstitutional.
"I made a statement, I expressed an opinion about the conduct of the Senate, which I am entitled to do under the constitution. It is freedom of expression and in fact, it is my constitutional right," he said.
"So, for them to say they are summoning me and saying I should appear before them for expressing my personal opinion on their conduct is totally unconstitutional and illegal. It is a question that does not arise. I do not come under the crop of people they can summon. The Senate cannot constitute itself into a court and hear a case they are involved. So, if they have any grouse against what I said, there is a place they can go to seek redress. Apart from all that, even looking at Section 88 and 89 of the Constitution, I am miles away from somebody they can summon."
SOURCE: The Nigerian Voice (politics)