Seyi Edun brought Food for Me when I had Nothing…Adeniyi Johnson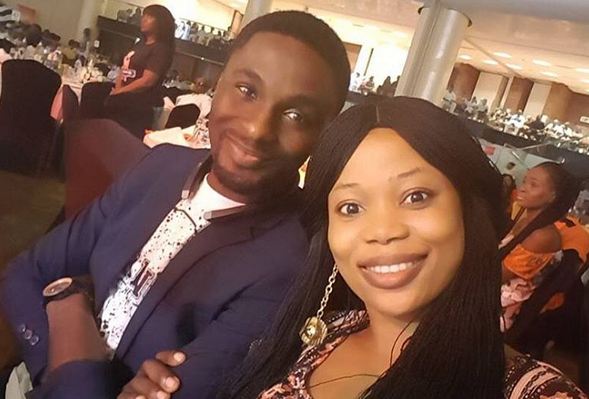 Source: Nathan Nathaniel Ekpo/Nollywoodgists.com
Nollywood actor, Adeniyi Johnson, has gotten many talking after he pen down some few birthday messages to his pretty lover, Seyi Edun.
Niyi took few minutes to share his ugly experiences and how Seyi coming into his life has brought great changes to him.
"I've known this wonderful woman for a long time but we got closer in 2015 November, we became close as at the time I needed friends because of what I was going through, friends deserted me even the ones I've always stood for, my life was threatened and in danger but constantly she tells me if they didn't create me they can't kill me, Feburary27th 2016, my birthday) u changed my mentality about friendship.. u went out of your way to put smiles on my face, you were the 1st to call and say words of prayer and GOD decided to honor your voice, then trouble arose, you were battered, blackmailed, back stabbed, close friends turn their back on you, you lost more than I know but yet you stood for a friend because you see genuineness and truthfulness.
"At some point my problem became your priority and you want me better and finer before sorting yourself, at the point I needed to hide when I can't go to work, left my house to scot with friends so as to save my head…. you bring egg and I'll buy bread, you bring soup and I'll buy fufu, no one to tell or share with as I don't know who true friends were.. but Today God has given me freedom… I remember how badly I drove your car and yet no complain, bless God he helped me to get you a better car, OLUWASEYI ASHABI EDUN… if I continue typing I won't stop o… may/June last year we couldn't help being friends but better friends.
"We started doing something. lol … despite all the lows in just a year God brought about a drastic change now I count gains and not loses, successes and not failure, increase the and not decrease. Today I wanna appreciate you and say thanks for standing by me in times of trouble… it's not my decision to take but God's willing and with his support.. together we shall remain… just reduce your ijogbon HAPPY BIRTHDAY MY QUEEN!!!"
en