Shehu of Borno Urges Clerics to Continue to Pray for Peace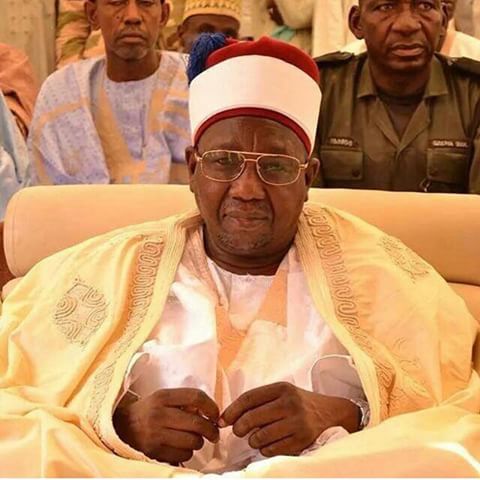 By Ahmed Abu, The Nigerian Voice, Maiduguri
The Shehu of Borno, HRH, Alhaji Abubakar Garbai Ibn Umar El Kaneni has called for continuous prayers for lasting peace in Borno, North East and Nigeria as a whole.
He also acknowledged the role played by the Borno State Islamic Scholars in the state towards the restoration of peace in Borno and North East Sub region which has been ravaged by the Bioko Haram insurgency.
The Shehu of Borno stated this today when the Borno State Islamic Scholars led by the Chief Imam of University of Maiduguri, Sheikh Imam Ali Gapchia paid a courtesy call on the Shehu of Borno, HRH, Alhaji Abubakar Garbia Ibn Umar El Kanemi in his palace.
The royal father assured the Islamic scholars of the continuous support and cooperation of the traditional rulers in the state while urging the religious leaders to be more committed and dedicated to their social responsibility of educating, enlightening, guiding and counselling their followers for peace to reign permanently.
He also appealed to the Islamic scholars to continue to pray for peace in the state, north east and whole country at large while thanking them for the visit and describing it as timely, as the year comes to an end.
Earlier, the Leader of the Islamic Scholars, Sheikh Ali Gapchia said the scholars highly appreciated the support and cooperation of the royal father, especially his advisory role in the activities of the Islamic scholars across the state.
He noted that without the support and cooperation of the traditional council, the preaching and teaching job of the Islamic scholars could not have been successful.
Gapchia however pledged on behalf of the scholars to continue to impress on their subjects and followers to be religious and remain upright as well as disciplined in the conduct of their life.
He also assured that the Islamic scholars that he will not hesitate to continue to preach the gospel to the youths and women to shun all vices by being law abiding and good citizens as well as obey constituted authorities in the society.
en
SOURCE :The Nigerian Voice (local news)