Shocking Revelation: Gulak Opens Up On Imo APC Primary – "I rejected private jet flight, $2m meant to compromise me",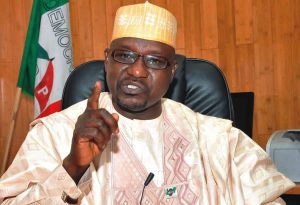 Chairman of the Imo APC governorship primaries, Ahmed Gulak, has said he rejected a private jet flight offer, and $2m.
The former Political Adviser to ex-President Goodluck Jonathan disclosed this in an interview with Saturday Vanguard.
Recall that Governor Rochas Okorocha has been at war with Gulak over the conduct of the primaries. He has rejected all other results, insisting on the one that produced his son in-law Uche Nwosu as the party's candidate.
In his words: "Before I went to Imo State, I was offered a private jet to take me to Imo state but I refused because I didn't want to be compromised.
"I refused the private jet and even the tempting offer made to me, very tempting, we are talking about two million dollars here, which I refused.
"Although, I tried to persuade them that I was going to do what is needful, free and fair primaries. Every stakeholder must be involved.
"Immediately we landed at the airport, that was where the problem started. They wanted to kidnap every member and only God knows where they wanted to take us to, which I refused.
"And to say the least, I pity the Imo people but they have to take their destiny in their own hands and elect who they feel will represent them well."
Speaking on Okorocha's son-in-law, Uche Nwosu's fate, Gulak said NWC has upheld the result of the Imo primaries the other candidates subsumed their ambition in the interest of Imo state to support Hope Uzodinma.
According to Gulak, "That is politics without selfishness. Rochas has spent eight years as governor of Imo state, you want your son in-law to succeed you, you want to come to the senate as a senator, you want your wife to be a House of Reps member, you want a running mate who is fiance of your daughter that is another son in-law to be deputy governor, that itself is indecent, it is immoral and the people of Imo state may not take it likely. They are not slaves; you cannot enslave them by making it a personal family dynasty."
Gulak added that Imo is a state with well-educated people, well enlightened state where we have professors in almost every family, so, they will not lie low when Rochas attempts to enslave them.
en
SOURCE :The Nigerian Voice (politics)