SILCA, NERI Engage 200 Unemployed Youths On Environmental Sanitation In Borno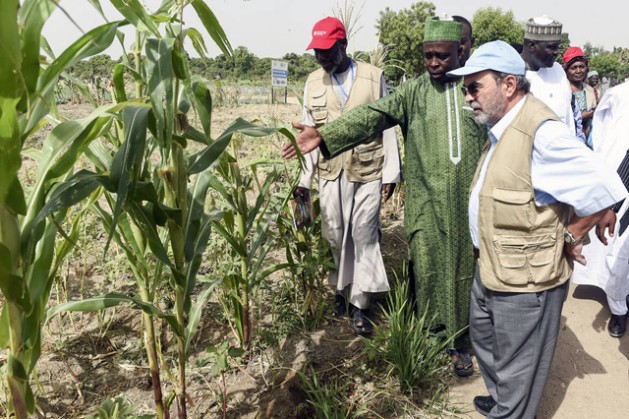 By Ahmed Abu, The Nigerian Voice, Maiduguri
Support Initiative For Communities In the Lake Chad Areas ( SILCA ) with assistance from the Northeast Regional Initiative ( NERI ) has empowered 200 unemployed Youths from Muna and Musari wards of Jere Local government area of Borno state with N60,000 each to participate in a neighbourhood environmental sanitation clearance activity yesterday in Maiduguri.
The Executive Director SILCA , Baba Mai Latti said the activity was aimed at empowering the unemployed youths to participate in a menial work that will commence next week.
According to him, the selected unemployed youths will receive stipends in exchange for their participation in the environmental sanitation exercise clearance of selected public structures and their environs within their neighbourhoods or localities.
" This activity was designed to provide idle youths, affected by the insurgency crisis, with an opportunity to earn funds for their personal development and entrepreneurship.
" The weekly community environmental safety exercises will focus on cleaning up refuse and debris around the Local Government Area .
"The selected youths will be equipped with personal protection equipment (PPE) including rubber boots, hand gloves, face goggles, face masks to ensure their health and safety for the duration of the exercise.
" Through the implementation of this activity, NERI seeks to increase trust and cooperation amongst youths while providing them with financial resources to reject the lure of extremist groups who are known to target vulnerable youth for recruitment," Latti said.
The Executive Director explained that each participant will be paid N3,000 daily for the twenty days totalling N60,000 each to enable them start up small businesses of their own and be self reliant.
" The North East Regional Initiative will support SILCA by providing technical and procurement assistance during the duration of this activity," Latti added.
The Borno State Commissioner of Poverty alleviation an Youths Empowerment, Hajiya Inna Galadima thanked NERI and SILCA for supporting the youths making life meaningful for the citizens of the state
The Commissioner who was represented by the Acting Permanent Secretary in the Ministry , Hajiya Aisha Abdulrahman said the exercise apart from teaching the inculcating clearness and healthy environment for healthy living , will equally empower the youths to be self reliant.
en
SOURCE :The Nigerian Voice (local news)