Social media writer, blogger sent to prison after being arraigned by police over alleged 'defamatory' posts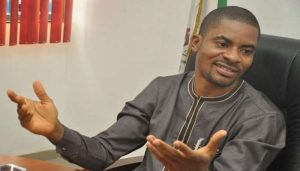 Prince Deji Adeyanju. social media writer, blogger and campaigner for the Peoples Democratic Party was sent to Keffi Prison today after being arraigned at a Karshi Magistrate Court in Abuja.
The Police arrested him and two others, Daniel Abobama and Boma Williams, for posts the police considered defamatory and criminal.
Here are some of the 'satanic posts' the police said they recovered from Adeyanju: One of Adeyanju's WhatsAPP posts Another Adeyanju attacks Buratai Adeyanju attacks Osinbajo Attack on Buhari's supporters Adeyanju spreads falsehood about Akwa Ibom Adeyanju attacks Gen. Buratai Adeyanju's post Adeyanju's comment on Offa Robbery Adeyanju accusing the police. NAN
en
SOURCE :The Nigerian Voice (local news)