Something is wrong with Nigerian federation: Dogara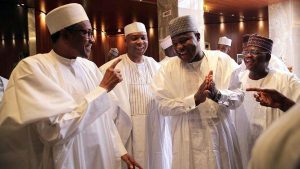 Speaker of the House of Representatives, Hon Yakubu Dogara, has said that multifariouys agitations in the country were indicative of a troubled federation.
According to him, the situation has informed the House of Representatives decision to begin the processes to interface with Nigerians across the country through its Special Adhoc Committee on Agitations.
The Speaker spoke while receiving members of the All Progressives Congress (APC) Committee on True Federalism, led by governor of Kaduna State, Mallam Nasir El-Rufai, in his office.
He said, "When you talk about federalism, you are talking about distribution of powers in a given society. Here in Nigeria, government powers are distributed vertically and horizontally; vertically from federal to local governments, horizontally, across the three departments of government and that is the executive, the legislature, in no particular order, and the judiciary.
"Whether this has worked, we can only know from the feelings of the citizens of this country and, I guess, agitations coming from various quarters show that something is wrong with our federation and something must be done.
"Fortunately, we have people in our party in Nigeria who can proffer solutions to the challenges that we have and if we dont do it, no one is coming to do it for us. Even if we pray, angels will not do this, God will not do it on our behalf, as a matter of fact we are the angels that God has put in this country to solve pur own problems and if we abdicate, sooner or later, we will face the very dire consequences because whatever we permit, we are responsible for and we had permitted to a point that they were threatening to consume us. Thank God we are beginning to take the right steps in the right direction to address these issues."
The Speaker applauded the APC for giving flesh to the commitment made in its manifesto about giving a balanced federation and addressing issues relating to true federalism, saying "it is the very first time that a national party, in the history of this country, will be taking this issue so serious as to constitute a committee to hold discussions with Nigerians across the length and breadth of the country and proffer solutions to them."
Expressing confidence in the committee under the chairmanship of Governor El-Rufai, Hon Dogara, gave the commitment of the House of Representatives to participate in the exercise through nomination of its members to join the committee, saying the National Assembly remains the proper forum for addressing restructuring issues as provided in the Constitution of Nigeria, and not the presidency as adduced by some people.
"I believe if we are able to get it right at this level, we will be able to deal with that problem and have a country that is working for every Nigerian, regardless of his ethnicity or creed.
"The Special Adhoc Committee on Agitations across the country will interface with Nigerians and advise the House as to the best measures we can adopt to deal with these issues. I am happy we are working together on the same agenda. We will put recommendations from both committees together and take an informed decision as to what is good for this country and what will meet the best wishes and aspirations of our people.
"The House Committee on Agitations Across the Country is not partisan so that when we are in receipt of all the recommendations, we would have narrowed down all partisan considerations to issues that seriously affect our nations so that we can work as patriots, as nationalists as against just members of a political party."
He reaffirmed the right to free speech of all citizens of the country, saying they remain protected under a democracy like that of Nigeria, while on the other hand, proponents of hate speeches will be dealt with as no democracy condones it because of the danger of violence and other vices it portends.
"Democracy itself doesn't guarantee anything, just like education. If education guarantees anything, all Ph.D holders and professors will be successful in life, but that's not the case. The same thing with democracy. The fact that you are practicing democracy does not mean that success is automatic. As a matter of fact, democracy doesn't work, it is the citizens of democracy that make democracy work and I thank God that we are in the process of making our democracy work.
"Here in the House of Representatives, on account of our responsibility as true representatives of the people, we had the discussion; some very healthy, some very unhealthy, leading to hate speech. And I said in the course of my welcome address when we reconvened from recess some weeks ago, that hate speech drowns the truth and everything has its value in the presence of the truth. Once the truth is missing, there is nothing to build on. And that's one of the dangers of hate speech.
"In a given democracy, most healthy democracies are actually very noisy. You hear the noise of civil society organisations, community based organisations, the noise of labour, the noise of lobbyists, but all this noise in a democracy elicits debate and that is what is called free speech. Any speech, any noise that leads to debate is free speech. That is what democracy protects. But any speech that elicits violence or is capable to inciting people to violence is hate speech and no democracy tolerates that.
"But the point is that if you fail to take proactive steps to correct the structure of government, then people are bound, as they compete for political, for economic space, to complain and sometimes they may resort to hate speech."
en
SOURCE :The Nigerian Voice (politics)