Stakeholders Lament Decay In Health Facilities, Institutions In Nigeria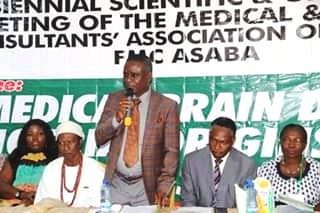 By Kenneth Orusi, The Nigerian Voice, Asaba
Wife of the Delta State governor, Dame Edith Okowa among other stakeholders in the health sector have bemoaned the constant decay of health facilities, institutions and inadequate personnel which according to them has affected healthcare delivery both in the urban cities and rural communities across the country.
This and among other health matters are topical issues at the 2nd Biennial Scientific and General Meeting of the Medical and Dental Consultants' Association of Nigeria (MDCAN), with the theme: "Medical Brain Drain In Nigeria: Origins, Implications and Solutions", held in Asaba.
Dame Okwa who declared the event open Friday was represented by the member representing Ukwuani state constituency in the State House of Assembly and Chairman, House Committee on Health, Dr Alphonsus Ojo, said unless stakeholders take critical look at the issues raised, quality healthcare delivery would continue to be an issue, adding that Delta State would be willing to partner with doctors in FMC to see how the menace is reduced.
National President, MDCAN, Prof Egim E. Egim, observed that the theme of the meeting was apt and timely as it is a major issue that should be urgently looked into, calling on the federal and state governments to avoid brain waste just as he commended FG for constituting the medical council.
The Chief Medical Director, Federal Medical Centre (FMC), Asaba, Dr Victor Osiatuma, represented by the Deputy Medical Advisory Committee, Dr Rosemary Ohri, noted that the messages learnt by government officials from the event should be taken to all in authority to help the plights of the doctor.
The immediate past CMD, Federal Medical Centre, Dr Leo Erhunmwunsee, said, "the rural areas are terribly under staffed, we don't have PHCs, I just hope that at the end of this meeting, government should look for a way to tackle this problem very quickly. Let us make visible efforts so that our people can get good health care".
In his welcome address, chairman, MDCAN FMC, Asaba, Omoifo Casmir, said "We constantly strive to audit the health system, identify challenges, seek solutions to these challenges, foster collaboration with critical stakeholders and influence policy decision in favour of ensuring availability, accessibility and affordability of quality medical care to all Nigerians".
Also, the Vice chairman, MDCAN FMC, Asaba and chairman, Organizing Committee, Dr. E. C. Aniekwensi, noted that the theme and sub-themes were all carefully chosen to set the stage for an enriching conference.
The keynote speaker and Secretary General, West African College of Physicians, Prof Clement Ezechukwu, disclosed that 95 per cent of doctors and other health personnel are home trained lamenting that the narratives have changed, stressing that the indices to rate a country's development is the level of infant and maternal mortality.
en
SOURCE :The Nigerian Voice (local news)