Sturridge gamble puts Liverpool in pole position for top four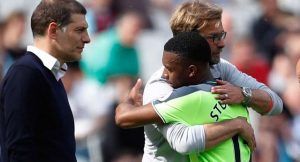 Daniel Sturridge had not started a match in nearly four months and had not scored a goal since the second day of 2017, so when Liverpool manager Jurgen Klopp listed the 27-year-old English striker in his starting 11 away at West Ham United on Sunday, the decision looked like a bit of a gamble.
 
But when Philippe Coutinho played a cutting ball from deep in the midfield to spring Sturridge running clear on goal, Klopp's decision to play the struggling forward proved to be the correct one. Using his experience, Sturridge proceeded to round Adrian, the West Ham keeper, and slot in the all-important go-ahead goal before doing his trademark dance.
"What do you think?" replied Klopp with a wide smile, when asked if Sturridge's pace had made the difference in a 4-0 domination of the Hammers . "Yeah, obviously."
The German tactician spoke about his striker's strong play in training leading up to the match and added, "I thought his timing was brilliant."
Coutinho, who played in a deeper midfield role and stood out as Liverpool's best player on the day, went on to score twice to go with his assist and round out his Man of the Match performance.
"It was always clear that Philippe can play this," Klopp said of Coutinho and his No. 8 role. "That's no doubt. If he starts from the wing, he's very often in this position. He was never a winger. He's always kind of a playmaker. … He needs to be in the decisive area, in the middle of the park, he needs to be in shooting situations and all that stuff and finishing situations. That's what he did today."
A crowd of 56,985 piled in to witness West Ham's final home game of the club's inaugural season at the London Stadium (home of the 2012 London Olympics), and the home supp
Liverpool could not afford a draw or a defeat against West Ham, and the players rose up to perform in the big moment. After Arsenal had improbably won away at Southampton and away at Stoke City in recent days, the pressure was on Klopp and his Reds to produce a victory on Sunday. Anything short of three points would have provided Arsenal a clear avenue to a place in the top four and a return to the Champions League.
"Obviously, a good sign," Klopp said when asked about Liverpool cruising to a stress-free victory. "That's how it is. A part of our life is to handle pressure, to ignore the bad part of pressure and use the good part of pressure. I thought we did really well."
With the win, Liverpool moved back to third place in the table with 73 points, which is one point ahead of Manchester City although the Citizens have a match in hand. Arsenal is on 69 points and in fifth place with one fewer match as well, but Sunday's victory meant that the Reds had earned the right to hold their top-four fate in their own hand
"Nobody makes you 73 points as a present," Klopp said. "Take it and use it. We had to work for it. Boys did it. Today, I thought we saw really a convincing performance. But the first sentence the players said in the dressing room was, 'One more time, one more game.' "
A win at Anfield against already-relegated Middlesbrough on the final day of the season would ensure Liverpool a highly coveted top-four finish and at the least a qualifying playoff berth for the Champions League next season. Given their performance on Sunday, one would find it difficult to picture the Reds mucking up the final match of the season considering the competition and the location of the match.
As the German manager stated – and Sunday's play on the pitch illustrated – Liverpool had earned its standing. The Reds deserved to be third after 37 rounds and are looking more and more like they belong in the top four for the 2016-17 Premier League campaign
en
SOURCE :The Nigerian Voice (sport)