The Ayamásè Rice Of Ikenne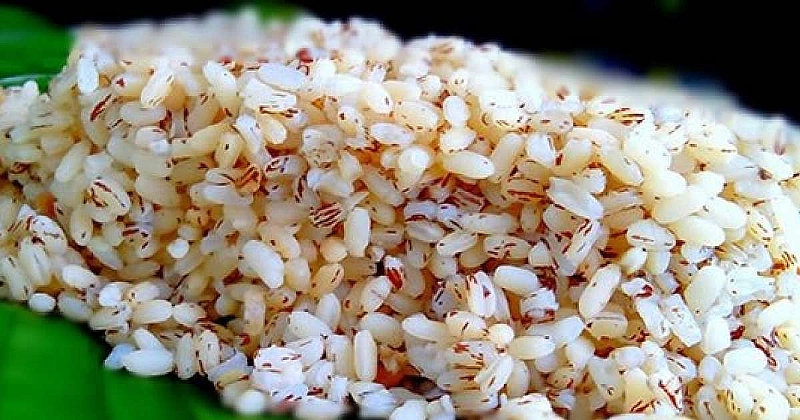 Merely glancing at it, it conveyed the idea of a pineapple. Yes, a pineapple with an exterior that is beautiful in its bleakness, surly in its symmetry, spectral in its pulchritude and swaddled in standardized staccato of sharp excrescence. Encapsulated with bristling barbs that are mutinous in their orderliness, daring you to touch, at your own peril. It was an exterior exuding with an uninviting posture which simultaneously, was goading you to venture to discover what is cocooned in its belly.
Spread on an alluring island of wide flappy green leaves, known to the Yorùbá people of West Africa as "Ewéeran," and sprinkled with an unattractive looking innocuous sauce, or if you like, call it stew, it oozed with an oscillating aroma that was magnetic in its cryptic and occultic cadence. Its saturnine sight indifferent, uncaring and unconcerned about the anticipatory turbulence in one's palate, and without excitement, it waited for one to prowl.
The sauce or stew, hibernating conspicuously atop the woven hills of the "Òfadá" rice, was deliberate in its refusal to glow in its dark greenness. Not until you have begun to explore the woven hills of the "Òfadà" rice, interspersed with small but tantalizing wads of "inú eran" with the genre of "shàkì," "èdò," "abódî" and "fùkù," claiming their rights of space and place, that one would discover that there was some "Òróró," in the stew.
All of a sudden, a flare of fervour fertilized in one's bowels, impatiently craving to touch the aroma oozing out from the woven hills of the Ayamásè Rice, marinating in the island of green flappy leaves plated in front of you. A kind of crave that could only be satiated by the mystery taste of the dark greenish sauce, insolently sitting silently, to taunt you. It elicited a chain of alacritous reaction emblematic of a farmished lion that was disregardful of the size of its prey.
The Ayamásè Rice, is a creative invention of an Ìpéru Rémo woman whose first name eluded me. No one could come up with her first name. She was married to an Ìkénné man named Másè Adesina. And everyone knew her as the "Wife of Másè," which literally translates to "Aya Másè" in Yorùbá Language. The two nouns were eventually contracted to a single one as "Ayamásè."
Ensconced in a well laid out compound in Etí Òbùn, (Òbùn in Rémo dialect means Ojà in standard Yorùbá parlance, or market in Queen's Language) with access road laying opposite the Ìkénné Central Mosque on Akindoyin Street, the road that leads to the famous St. Paul's Anglican Church, Ìkénné, Ayamásè from this small insipid outlet, created a niche for herself from whence her fame spread to all the nooks and crannies of the World.
With an interesting layout, made up of linked streets and shortcuts, thrown around in raw architectural nonchalance into the midst of many storied buildings, it was possible to walk in the familiar topography of the dust mantled path to the house of revered sage and the greatest Yorùbá hero since Odùduwà, Chief Obafemi Oyeniyi Awolowo, whose love for the Ayamásè's Òfadà rice was known to an average Ìkénné son and daughter.
Through dint of hard work, persistence and perseverance, Ayamásè has turned the not so positive reputation of her husband, Másê Adésínà, a well known Ìkénné prince himself, into a reference of distinguished accomplishment and inspiring distinction. With her signature Ayamásè Rice, she sent her children through the famous and reputable Mayflower School, Ìkénné, founded by late Tai Solarin and to great schools in United Kingdom and the United States of America.
The Ayamásè's rice which first birthed in Magodo from its origin in Ikenne, before spreading to other parts of Lagos, has since become a celebrated brunch in several parts of Yorùbá land, Nigeria, and in Diaspora with its variation all over the place. Many now copy this, and try to serve it at parties and other events.The recipe has also been variegated in fewer than many ways. Ditto, its quality, several levels of which have been encountered all over. The Ìkénné sons and daughters have every reason to celebrate this.
The Ayamásè's Òfadà rice has become one of the cultural gifts exported by the Yorùbá people to the World. This is a proof that indigence could not be an obstacle to creating an enduring legacy. It is a proof that hard work and determination are all that is required to pursue a vision, a trade, a talent and an endowment. The Ayamásè's rice has come to stay. Its taste is in the eating. It should be celebrated.
It is important that I disclose that I was first introduced to the legend of Ayamásè Rice by my darling sister, Chief (Dr.) Tokunbo Awolowo, who provided the illuminating background. She also made sure I ate from the source at Ìkénné. My research on the family History of the Mase Adesina family of Ikenne was also aided by my dear Ègbón, Dr. Biyi Oyefule, an Ìjèsà son from Remo, who was in Mayflower School with some of the Másê children.
en
SOURCE :The Nigerian Voice (opinions)