THE EFFECTS OF POLYGAMY ON CHILDREN EDUCATION IN NORTHERN NIGERIA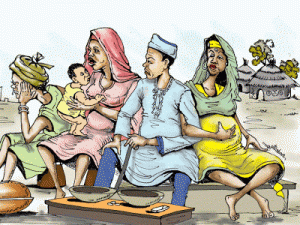 Over the years, many educational authorities have developed interest to understand the reasons for the downward trend in educational achievement of children. Attributed it to the children's background which depends on the type of family where they are raised. They stressedthat the environment condition and the nature of social interaction are invariably some of the contributing factors to that.
That goes on the family and may have some positive or negative influence on theeducation of children. Report stated that the factors affecting children's education include, psychological conditions in the family, availability of equal opportunities, social climate and level of proper care that exist in families they come from.
The family as a primary agent of socialization, has powerful influence on children which could in no doubt enhance or hinder educational achievement of children depending on the social climate in such family variance psycho-social emotional fortification in the family background could be some of the high or low educational performance children in northern part of Nigeria
Polygamy has been cited as possible contributory factor and hindrance towards the education of the children polygamy which was said to be that a man to too many spouses, this involves marriage with more than one wife at a time, it is sometimes called polygamy. Polygamy is accepted among different societies worldwide. According to the ethnographic atlas of 1,231 societies noted that 588 had fragment polygamy. Under the Nigerian civil law, polygamous marriage is considered equivalent to monogamous marriage, as all the 12 are governed by Sharia law, mostly in northern Nigeria, which allows a man to marry more than one wife at a time. The number of wives which ranges from two upward may not depend on the religious and economic capability of the man. This form of marriage has given rise to what sociologists often refer to as the extended family. This is a common practice in Nigeria. The varying structure of any family from society to society has brought about this practices.
The moral decadence of the society today may be as a result of the inability of polygamous parents to give the children adequate financial support for their education. The parents may not be able to go through their school works at home consequently; they may not be able to identify the need of their children who may be left to grow on their own. In fact, polygamy may affect the upbringing of children educationally, socially and morally.
Furthermore, this tendency affects most polygamous home negatively, as suchopportunity is not given to the children in their educational pursuit. Agreed that there is gender inequality in favor of the children. Most girls in the North or from polygamous home are withdrawn from school at the tender age and they are given to husband. Some girls who would have loved to go to school are frustrated by the problems of non-availability of fund in the polygamous home.This lead to the eventual dropout of thegirls from school.
On the part of the government, effort to provide the basic needs for the children to pursue their education in northern Nigeria should be triggered towards creating scenario whereby there would be low level of illiteracy, hawking in the street and main roads.
Efforts should equally be made towards creating sensitization programme on education, adverts that would ginger school age children with emphasis on the negative impact of illiteracy to the nation and need for people to emulate Sir Ahmadu Bello, (Sardauna of Sokoto), Sir Abubakar Tafawa Balewa etc.
Therefore this article will focus on the negative impact of polygamy on children's education in the northern Nigeria, Borno state in particular regarding the basic principles and attitudes of modern day polygamy and to describe the negative psychological impact the polygamous practice has on children education and other social life.
On the intrapersonal focus of social exchange theory which emphasizes on individual perceptions of attractions and alternatives. In contrast, behavioral theory adopts interpersonal stance which asserts the marital satisfaction is related to the exchange of overt behaviors between partners. The underlying premise is that the exchange of positive, rewarding behaviors enhance marital satisfaction whereas negative, punishing behavioral exchanges decrease marital satisfaction. This perspective has focused on behaviors occurring in the context of problem solving, in which distressed couples appear more likely to engage in negative behaviors than non-distressed partners.
Although the link between behavior and satisfaction has received considerable support, there is recognition that variables other than behavior are likely to be associated with marital satisfaction, considering the attributions partners make regarding overt behaviors. Although these cognitive processes are not thought of as directly associated with marital satisfaction, they are believed to influence interactive behaviors that will in turn impact marital quality.
Government should call more on entrepreneurship skills in both secondary and tertiary institutions thereby creating more dependency on one's self other parents and government always for white collar job, so as to always reduce the level of illiteracy in the North as those hawking would have an alternative means or source of living.
Families should also play their parts well as government policies are still functioning towards a sustainable development in the education sector. Infrastructural development are still going on despite the level of economic recession in the country.
Furthermore efforts of the government towards providing basic social amenities to the society. This can only be achieved when we all stakeholders complement such appreciable efforts aimed at improving standard of education in northern Nigeria and Borno state in particular
Augustine Solomon Thliza and Micah Nuhu: Three (300) Level Students of Mass Communication Department, University Of Maiduguri.
SOURCE: The Nigerian Voice (opinions)