The Mockery Of Nzeribe: When Old Age Became An Epidemic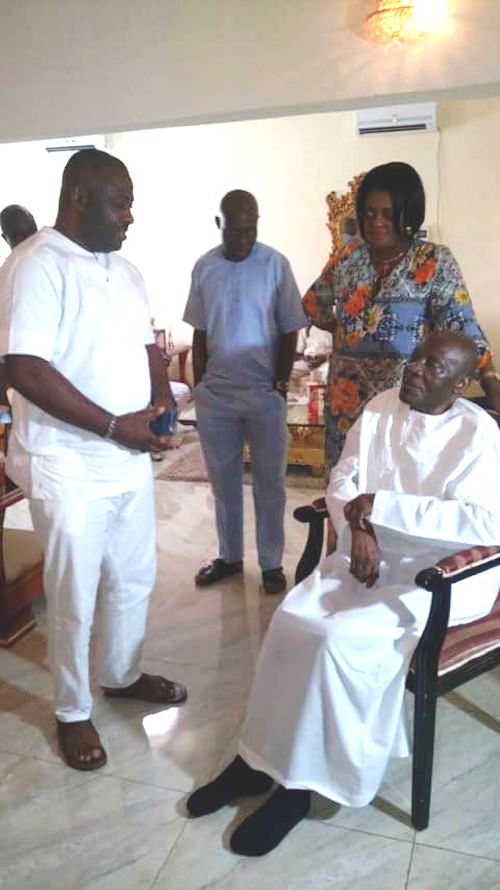 Over the years, I have noticed an immoral, unhealthy and insensible public display of utter disdain and disrespect for the elderly by not a few Nigerians. This emerging negative trend is not only an un-African way of life, but it is also a strong sign of cultural devolution. Africans are not an insensitive lot; there are certain things that must be kept sacred as long as life endures.
As much as I know, the African tradition is deeply coated with thick layers of reverence for the aged. Usually, the eldest man or woman, as the case may be, remains the head of a family, tribe or kingdom until his or her death. In fact, the number of old persons who live within a given community, is often used as a native yardstick to determine how healthy or spiritually sound the people are.
Lately, the media has been agog with the picture of a frail-looking and wheelchair-ridden multi-millionaire investment mogul and Nigerian politician – Francis Arthur Nzeribe. Unfortunately but expectedly, the verbal outbursts that accompanied such a touching sight were heavily laden with disgust, contempt and mockery. The height of it all was when a lady who many identified as Arthur Nzeribe's grand-daughter joined the sordid show of shame. If words were bullets, then perhaps the remaining years of life would have been snuffed out of the septuagenarian.
The ugliness and unprintable nature of the viral remarks poured on Nzeribe via the social media prompted a swift reaction from the stable of the erstwhile strongman of Nigerian politics. In a strong-worded press release issued by his Chief Press Secretary, Mr. Collins Ughalaa, Nzeribe frowned severely at the hateful insults which were heaped upon his head simply because of old age:
"The attention of Chief Senator Francis Arthur Nzeribe has been drawn to the hateful speeches going on against him in the media, especially the social media, including the unfounded rumour that he has a stroke… I thank God for keeping me healthy and allowing me see old age. Life and death are in God's hands, and God willing I will remain hale and hearty and not suffer a stroke until such a time when God calls me home. And no amount of hateful speech can change or alter God's plans for me or anyone else… and for those manufacturing and spreading this hateful speech against me, I wish them the best. God has deemed it fit for me to see old age in good health, and there is nothing more to ask from God", Nzeribe stated.
Old age is not a disease, but a cross which we must all bear in due time. Our goodness or badness has absolutely nothing to do with it; it is as certain as the sun that we shall all get old and die! Nzeribe's controversial political history cannot be equated to the barrage of unguarded utterances spewed by shallow-minded people who view old age as an epidemic. Perhaps, it is only a reflection of our fast decaying moral fabric as a people, or the severe consequence of cultural devolution in Nigeria.
en
SOURCE :The Nigerian Voice (opinions)