The Truth About  N30,000 Minimum Wage,  Strike And  Governors As The Jacobs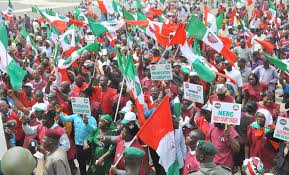 One supports some of the fine points raised against the proposed new minimum wage strike, especially given that some civil servants are yet to receive salaries, thus cannot even stock foodstuff. If the strike holds, it could be hard to meet up family up keep. Thus the strike seems wrongly timed as some workers are not, and might not be paid while the proposed strike lasts. This is besides the mass of non-civil servant populace, most of whom do not have money to mass purchase and store food/provisions. The impact of flooding and terrorist acts on victims, as argued by the industrial court, also paints the proposed strike as evitable, if not that the pathetic minimum salary of N18,000., in Nigeria, which amongst the least in the world, actually needs upgrading. Labour has rather ironically, tied the strike to this critical moment, and ahead of elections, to try to achieve its demand, and that is if government will be responsive.
One takes exception to the popular assertion that increase in salaries will lead to or will increase inflation. Though a realistic economic argument, let's consider that the inflation and high prices of goods/services, have being on for a long time now, even without salary increase. More over the civil servants spend the stagnant minimum wage in the same economy/market, amidst the extant inflation. Again, current events tend to show that Western and traditional economic theories and principles might not always match realities on ground in Nigeria. Examples: (1) inflation simply means too much money chasing too few goods, but there is hardly too much money in circulation or at citizens' disposal in Nigeria, even as it is true that goods are few, thus prices are high. (2) Recession, has ended officially, and by the logic of economics, but there is still recession in our pockets and kitchens, because other factors that should make the economy viable, examples, technology, capital, industrialization, true federalism, multiple products economy etc, are still untapped.
So l believe that, the civil servant should be given a pay rise, and let him or her spend it in the inflationary economy, with or without value for the salary. And let it so be, for the civil servant. This is more so, considering that it is worst to have stagnated salary in an economy that is usually in inflation. Worst of all workers' use part of their salary and other personal funds and facilities to facilitate work in work places, as overheads and imprests are rare or no longer given to many government institutions.
The pay rise now and periodically, is a necessity. Government, especially, governors should accede to the demand in order to make Labour shelve the looming strike. Governors opposing the chicken minimum wage of N30,000. should know that government and the states are not their personal property, as such they will leave offices one day. So, they should not preemptively cry over inability to pay as if the burden will be their personal burden. What about the various loan burdens, some of them will bequeath to their successors? Have they thought of clearing them?
Governors ought to think out of the box, to generate revenues instead of depending on dwindling federal monetary allocations. If federal laws are expropriating rights of their states, they ought to lobby for constitutional amendments, to freely explore resources in their domains. Anything less than these, should rather constitute grounds for a governor to resign patriotically.
en
SOURCE :The Nigerian Voice (opinions)