Thesis, Antithesis and Synthesis of Democracy: Lessons from Osun West Bye-election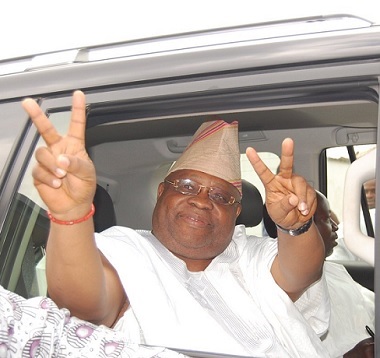 The recently concluded Osun West Senatorial Bye-election in Osun state, Nigeria,that was conducted to fill the vacant senatorial position of the constituency as a result of the sudden death of late Senator Isiaka Adetunji Adeleke and the first executive governor of Osun State has come and gone with a winner and losers emerging. However, an empirical glance at the exercise is something worth pondering on. Thus, Maxwell Adeyemi Adeleye, a trained researcher and political scientist based in Lagos, writes on the political permutations that produced the winner.

The Saraki's Guerrilla Warfare

The candidate of the All Progressives Congress (APC), Senator Mudashiru Hussain had been disqualified from contesting the primaries by both the party's electoral committee and the three-man appeal panel set up by the National Working Committee (NWC) of the Party leaving his rival, Ademola Adeleke, the immediate younger brother of late Isiaka Adeleke to emerge unopposed.
The electoral committee and appeal panel based Hussain's disqualification over his non-resignation as a member of the Osun State Executive Council 30 days to the primary election as prescribed by the party's constitution. However, some members of the NWC, led by the Deputy National Chairman, South, Engr. Segun Oni and the National Vice Chairman in charge of south west geo political zone, Chief Pius Akinyelure argued that it would be wrong to disqualify a candidate favoured by an incumbent Governor, so, the resolutions of the party's electoral committee and appeal panel on Hussain were set aside.
The foregoing did not go down well with Adeleke who resigned his membership of the APC in protest and defected to crisis-ridden People's Democratic Party (PDP) and this party expressly waived all stumbing conditions and made Adeleke its flag bearer.
Meanwhile, when the process of nominating Hussain was on, a commissioner in Governor Rauf Aregbesola of Osun State's cabinet called me on phone to discuss a social matter and during our conversation; we discussed the ongoing intrigues within the APC. The Commissioner bluntly told me that "Maxwell, the coming election is between Aregbesola and some cabal in Abuja led by the Senate President, Bukola Saraki".
Expectedly, immediately the primaries in both leading political parties in Osun State (APC and PDP) were concluded, soon would intra-party political contradictions and internal party dynamism surfaced in APC. It was time for the Abuja cabal led by the President of the Senate, Sen. Bukola Saraki to pay back Lagos APC' caucus loyal to Asiwaju Bola Ahmed Tinubu, a former Governor of Lagos State and the ceremonious national leader of the current ruling party over the role Asiwaju's camp played against the emergence of APC candidate in November 26th 2016 governorship election in Ondo State, in person of the current governor of Ondo State, Mr. Oluwarotimi Akeredolu, SAN.
In November 2016 gubernatorial election in Ondo State, politicians loyal to Asiwaju Tinubu in APC had starategically supported the candidate of the Alliance for Democracy (AD), Mr. Olusola Oke, SAN against APC's flag bearer Mr. Akeredolu, who won his party primary election against all odds and who would later become the winner of the gubernatorial contest that defeated Chief Olusola Oke to a distant 3rd position.
It was Saraki that was claimed to have ensured that the state security apparatus and the Independent National Electoral Commission (INEC) tactically decline to give strategic support to APC in Osun. These institutions mentioned above danced to the tune of "omo baba oloye" and thus, the APC boys were strategically caged!
It was Sen. Saraki's strategic political hand during the electioneering campaign that ensured that everywhere was adequately secured by the police. The Abuja cabal, unlike the Lagos boys' role in Ondo, were smarter, they attended the grand finale of APC rally at Iwo in the case of the recently concluded bye election in Osun West senatorial election; they stayed behind and played the role of enemies within APC folks to ensure Adeleke's victory in PDP. They were the destructive invincible hands in APC and the unseen supportive hands in PDP!
Nonetheless, after many twists and turns, the outcome of the election reflected glaringly, the will of the people of Osun West senatorial constituency. The Osun people gave their verdict against Aregbesola's uncaring governance and punitively kicked against Hussian to a distant second position in the bye election. Adeleke's victory in the election however united the hitherto highly polarized political gladiators and supporters of PDP in Osun.
In the campaign before Ademola Adeleke's victory on July 6th, 2017, there was demonstration of unity of purpose amongst these hitherto disunited PDP political actors. Besides Saraki's strategic support for Ademola Adeleke and the unity of purpose of PDP gladiators and the punitive electoral stick wielded against Aregbesola uncaring governance, the PDP governors especially, the Oshokomole of Ekiti, Governor, Ayo Fayose played no small role to ensure that Ademola Adeleke has the financial fluid that decimated Aregbesola's financial prowess.
While Ademola Adeleke's victory brought back unity to PDP, there is one governor in south west state who also rejoice on the outcome of the just concluded Osun West Senatorial election, Governor Rotimi Akeredolu of Ondo State is glad that Ademola Adeleke defeated Aregbesola's boy Hussain!

Egotism against popular participation
Etymologically, democracy connotes popular participation. Democracy as a concept is centered on popular participation by the people and thus its adopted because of people.
Ironically, a situation where the majority, no matter how dim, thoughtless, rash and peasantry they seems to be, are not allowed to have their ways, cannot be said to be democratic. A system where the welfare of the people is not given priority and where the majority of the populace are not consulted in decision making process by the few who made of the government, symbolizes totalitarianism and monopolistic-oligarchy type of government.
To further expansiate my opinion above, Eroro, a university don opined that "democracy is about people. The majority with minority interest prevails in every civilian government. Without the people, there is no democracy. The people decide and make leadership in a democracy."
However, the modicum of operations in APC, especially, camp loyal to Tinubu, connotes an antithesis of democracy. Asiwaju's camp and many of his supporters believe in winners' take it all.
Today, to get anything in Osun APC politics, one must belong to the camp of the Governor and have his total support. Worst still, it does not even count if you are an APC card carrying member but so long you belog to Yusuf Lasun's camp, the current deputy speaker of the House of Representatives and one Alhaji Fatai Diekola, the former chairman of Osogbo local government, such a person becomes insignificant in the political calculations of Osun politics.
It is known that Tinubu supporters are still at loggerhead with Yusuf Lasun for teaming up with Yakubu Dogara and some members of the PDP to defeat their candidate for the Speakership and Deputy Speakership of the House of Representatives on June 9th 2015. They felt Lasun Yusuf was an opportunist and a betrayer. In Tinubu's camp, it is their believe that Osun politics is an extension of Lagos politics that is largely dominated by Jagaban. Up till date, Tinubu boys are yet to come with the political reality and accord Mr. Lasun Yusuf the respect his office deserves.
In Osun, Aregbesola is the god of APC. The majority of APC members who fought for his electoral victory, especially, the home-based ones are treated with disdain. Today, Aregbesola's lagos non-indigenes friends call the short in many ministries and government parastals in Osun State to the detriment of Osun indigenee. For any politician to amount to any political significance, homage to Aregbesola is key than the collective interest of APC as a party. This is evidence in the newly inaugurated cabinets in Osun State executive members where Aregbesola played the god and single handedly selected his loyalists without any input by Osun APC supposed party leaders .Aregbesola has become thin god thus he wants everyone including lasun Yusuf to worship him! .
And to make the matter worst, Aregbesola's performance in second term has been very disastrous. For seven years, he has refused to conduct local government election. For close to three years in his second term, he was the sole administrator of the state. Only him award contracts as the state had no executive council.
Aregbesola has been paying half salaries to workers for 27 months. He owes pensioners for two years. He has not paid gratuities since 2015. The students of Ladoke Akintola University of Technology (LAUTECH), Ogbomoso, Osogbo campus have been at home for the past seven months due to industrial actions embarked upon by their lecturers who are owed ten months salary. Abandoned projects litter across the state. Osun state today, is the most indebted in the federation after Lagos.
Furthermore, the APC candidate for the July 8th senatorial election, Mudashiru Hussain, from all empirical facts at my disposal, is a man unfit for leadership in 21st century. As member of the House of Representatives for 8 years representing Isolo Federal Constituency 1 of Lagos State, Hussain performed woefully.
As a Senator representing Osun West in Senate from 2011 to 2015, he was unreachable to his people. He treated his people in Ejigbo like IDPs. Without being immodest, let me say that Hussain has no electoral value among his people and the results from Ejigbo local government on July 8th is a point in reference.
Also, Hussain is a misfit educationally. His art of communication and lexicon is not only disgusting but one that is poorly crafted. His 12 years sojourn in National Assembly brought no meaningful development to his people. While in the National Assembly, he never respected for once the people he represented. To Hussain, loyalty belongs to his godfathers who kept promoting him against the wishes of the people at every transition period. His political dullness and uninspiring personality is second to none.
From 1999 till date, Hussain has only been in power as a stooge and an unsurper not because he enjoyed the mandates of his people but rather enjoy the favour of the verdict of Lagos Jagaban. All the while, his godfathers had been imposing him on the people but quite uncalculatively, he mistook the patience of the people for stupidity in the recent election and so he kept on.misbehaving until he met his electoral waterloo.
Hussain, as a former member of National Assembly for 12 years, he cheerfully accepted an offer to be a commissioner, less than 17 months to the end of Argebesola's tenure. He has not raised any quality leader other than his biological children that now resides in Western Europe.
Sadly, when death came knocking suddenly at Isiaka Adekele's door, Aregbesola quickly fielded the uninspiring Hussain again to complete what the dead could not achieve. This again was another insult to Osun people and thus people rose against the tyrant governor and his co travelers from Lagos.
And dissatisfied, the people revolted. They found a friend in Ademola Adeleke and embraced him to liberate them from the redoubtable tangle of Aregbesola. And like it has always been in a democracy, the people triumphed. Aregbesola lost. Hussain disgraced!
One thing that got me pissed off is that all through the campaign, Aregbesola described himself as the lord in Osun without whom no one can get anything in Osun politics. He insulted the Adelekes at will. He did not choose his fight strategically. Some members of his cabinet in his first term are still at loggerhead with him. He side-lined home-based party members who demanded that they should be treated like human beings. He treated the teachers, the civil servants, the students, the aged and the indigents like beggars. His pride was ubiquitous. Aregbesola suddenly forgot that it was the same Adeleke that gave him the political shoulder to ride to power in Ede and its environment but power made Aregbesola to be intoxicated and insult Adelekes' clan all through the campaign, Aregbesola Danguro has no respect for the dead.

Lessons for Leadership

In Marxist post behavioural political system, the people are the central focus in a democracy, they are the thesis. They are the deciders, the makers and the punishers in a democracy. When a leader enthroned by the people take delight in flagrant abuse of power and resources, that is dictatorial and totalitarian which connotes an antithesis of democracy which do lead to synthesis and the utmost decimation of such a dictator in civilian uniform.
Aregbesola took the people's love for him for granted. Aside Tinubu, he has distanced himself from all the people that God used to make him in Osun. In governance, he bites more than he could chew. He was portentous, pompous and ostentatious. He claimed to be a democrat but all his actions contradict everything democracy stands for. You are only an APC member if you are loyal to Tinubu's camp. It is no longer the people say, but BABASOPE! Aregbesola who claimed to be the most committed APC member worked against his party in Ondo because his favourite candidate lost at the primaries. That is disloyalty and unprincipled.
The coming generation should learn from Aregbesola. You cannot be smarter than the people who made you. Never take the patience and love of the people for you as stupidity. Guide the people but respect their choice. Arrogance and pride sends divine grace and favour away from the people. Be humble. Be diligent and be consistent. Don't preach virtues and practice vices. Be liberal and accommodating. Don't be greedy. Jettison the idea of winner takes it all. Be submissive and never take your critics as enemies. Cheers.
Adeleye can be reached via 07039168005 or [email protected]
@maxwelladeleye on twitter.
Reply Reply to All Forward More
Sent from Yahoo Mail on Android
en
SOURCE :The Nigerian Voice (politics)