#ThisIsNigeria: With The Aid of Terror, Buhari Is ForcefullyConfiscating Land, Budgeting Billions For Fulani Herders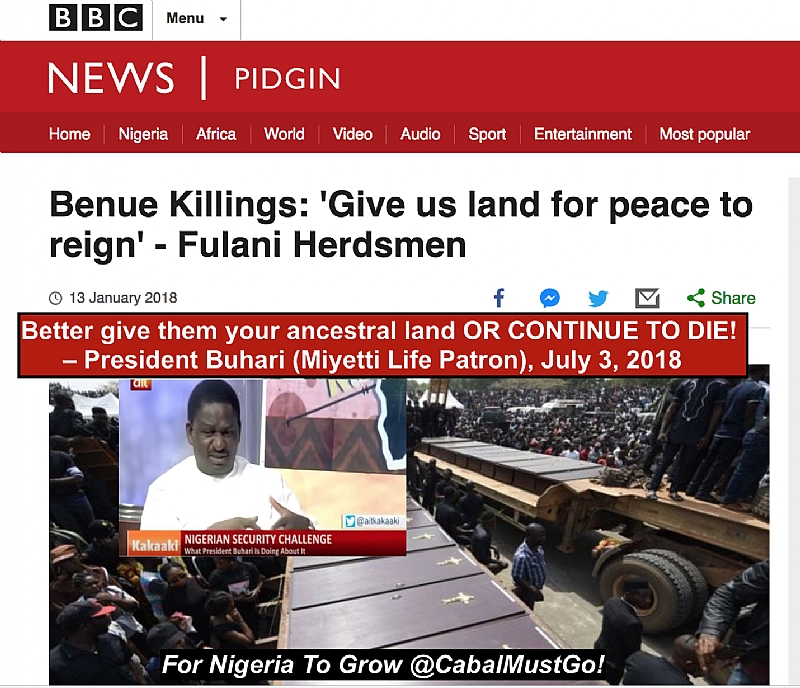 #ThisIsNigeria: With The Aid of Terror, Buhari Is Forcefully Confiscating Land, Budgeting Billions For Fulani Herders
1. Buhari since assuming power has been rapidly budgeting billions for Fulani cattle rearers, the group to which he belongs. The terror has been used as a means of pushing for Senate, NEC, NGF meetings and rapid billions approvals.
Buhari Gets Approval For $1 billion For Fulani Herdsmen From Council of State With IBB, GEJ Absent
2. The Fulani herders have repeatedly threatened that only if they get land can there be peace:
https://www.bbc.com/pidgin/tori-42676578
http://www.naijaloaded.com.ng/news/plateau-killings-there-will-be-no-peace-until-you-give-us-land-fulani-herdsmen
Plateau killing: Miyetti Allah gives reasons there'll be no peace, slams Fulani lawmakers
2. Buhari has been seizing and allocating land to the cattle rearers as his top function. While other needy Nigerian sectors have never gotten such attention including the starving and poisoned farmer and fisherman victims of oil polluted waterways of the Niger Delta. The wealthy owners of the cattle are getting these seizures of land across the states by priority government fiat:
Cattle colonies: 370,000 hectares of Nigeria's land'll be given to herdsmen for personal business – CSO
https://www.naijanews.com/2018/04/27/see-the-five-states-where-fg-has-approved-ranching/
3. The Buhari government itself is directly involved in terrorizing the people by promoting the terror threats issued by Fulani terrorist herders directly and openly on national TV:
Give Up Your Ancestral Land For Ranches Or Continue To Die – Buhari: https://www.youtube.com/watch?v=LO8jFbNwteg
Buhari via media aide, severally repeats threat "Give up your ancestral land or die" on National TV: https://www.youtube.com/watch?v=zvK_POZz8NA
4. Youth and community leaders are beginning to riot over the land seizures. the mainstream media is paid to be quiet and report the riots as random unrest without writing that they are due to the land seizures.
Nasarawa: https://newsrescue.one/locals-kick-as-nasarawa-gov-dedicates-their-land-as-grazing-ranch-without-consulting-rulers-stakeholders-youth/
Taraba: https://newsrescue.one/taraba-irate-youth-riot-confiscation-of-communal-lands-by-nigerian-authorities-stone-police-commissioner/
See NAN report on the riots where the irate youth even stoned the Taraba police commissioner. Notice NAN left the reason for the uprising out of the report:
5. Buhari, ElRufai etc have openly declared their allegiance to Fulani nationhood over Nigeria. ElRufai has threatened as reads "We will write this for all to read. Anyone, soldier or not that kills the Fulani takes a loan repayable one day no matter how long it takes." https://twitter.com/elrufai/status/224577000218689537?lang=en
ElRufai has further admitted paying Fulnai terrorists even outside the nation's borders involved in the killings in Nigeria:
We've paid some Fulani to stop killings in Southern Kaduna – El-Rufai
Buhari has declared that had he not been gainfully employed, he would possibly have been a Fulani terrorist:
'I would have been part of herdsmen attacking people' – Buhari
When caught in the act of betraying Benue people, Buhari refused to check his police chief for allegedly removing special forces against his orders. Nothing was done to the IG for this act in aid of Fulani terror:
Buhari's IGP has actually openly announced that he will not pursue herder terrorists:
Benue Killings: Why we're not going after killer herdsmen now – Police:
Benue Killings: Why we're not going after killer herdsmen now – Police
https://allafrica.com/stories/201801110211.html
The Buhari government vehemently refused to proscribe Fulani terrorists as such, in spite of their acts above the law and open admission to terrorism.
https://ynaija.com/fulani-herdsmen-not-terrorists-garba-shehu/
Compare to how the Buhari government rapidly massacred 1000 unarmed minority Shia Muslims in Kaduna and buried them in a mass grave secretly in the middle of the night and immediately proscribed the organization; since illegally detaining the leader, his wife and over 100 other members: https://www.premiumtimesng.com/news/headlines/208701-zaria-massacre-months-silence-buhari-promises-appropriate-response.html
Also compare to how over 100 Igbo were massacred and also secretly mass buried in Onitsha Military cemetery:
https://www.premiumtimesng.com/investigationspecial-reports/205176-special-report-onitsha-massacre-pro-biafra-supporters-coordinated-sss-operative.html ) and how IPOB was rapidly proscribed.
6. Amnesty International, TY Danjuma, others have assessed and directly accused the Buhari administration of aiding the herder terror killings.
Amnesty International raised the issue of no security response for a full 7 hours of terror on the people of Jos during #PlateauMassacre:
UN condemns Plateau killings, AI says FG encouraging murderers
Defend yourselves or you will all die, by Retired General T.Y. Danjuma:
Herdsmen attacks: Defend yourselves or you'll all die —T Y Danjuma
Article by Dr. Perry Brimah of royal Fulani heritage and son of famous West African cattle rearer family, known for peaceful coexistence and community development. Whatsapp Tel: +234-903-420-3031; +1-929-427-5305; @CabalMustGo; @EveryNigerian
Regards
Peregrino Brimah M.D., M.S.
This message is from ENDS.ng [Every Nigerian Do Something] The March 18 2013 Kano bus stop bomb inspired movement.
Please join us at ENDS.ng and let us together DO Something.
en
SOURCE :The Nigerian Voice (opinions)