Thousands of policemen, officers protest non-payment of salaries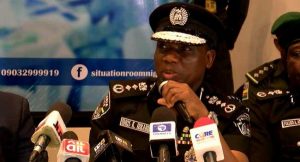 Nigerian Police personnel in Kaduna, North West Nigeria, on Monday carried out a peaceful protest against non-payment of August and September salaries.
The protesters, cutting across rank and file and officers of the command numbering over 2,000, protested in front of the Salaries Office inside the State Police Command Headquarters.
Cyril Abeh, State Commissioner of Police, said the delay in payment is from the IPPS Office and not the fault of the police. He appealed for restraint.
"They are police officers operating under the law; if they misbehave, we will deal with them according to the law. This is mutiny. I am in the field attending to a very important security matter, but will be on my way back to headquarters to address them now," he said.
Some of the protesting officers accused Minister of Finance, Mrs. Kemi Adeosun, of refusing to allow President Muhammadu Buhari to know the exact situation regarding the non-payment of their salaries.
"She already lied to Mr. President that all is well. How can you fight corruption and you don't pay police their two months salaries," an officer bellowed.
Our reporter reliably gathered that eight Police Commands, namely Kaduna, Kebbi Gombe, Nasarawa, Ekiti, Bayelsa, Imo and Ogun, are owed August and September salaries.
Credit: News Express
en
SOURCE :The Nigerian Voice (local news)