Tinubu calls for reforms, true federalism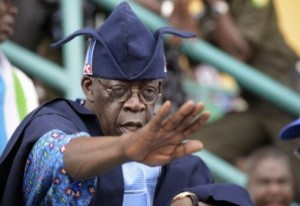 National Leader of the ruling party, All Progressive Congress, APC,Asiwaju Bola Ahmed Tinubu has joined the call for true federalism in Nigeria.
Tinubu, who did not support the National Conference held under Goodluck Jonathan presidency,  challenged the Federal Government to devolve power to the component units of the country to pave way for genuine development and growth.
Not a few Nigerians believe that the conference generate a huge body of ideas that could held make the country run as a better, more fulfilling federation.
Tinubu spoke at the 91st Anniversary of Daily Times and Times heroes awards held at International Conference Centre, Abuja.
Tinubu, who was represented by the Governor of Osun state, Rauf Aregbesola, said Nigerians must begin to ask questions on why the country has remained underdeveloped despite passing through the oil boom and so many opportunities to become a great nation.
For the  APC leader,   Nigerian must break away from its negative past and focus on a brighter future if it hopes to achieve the nation of their dream.
He said, "We must break away from the euthanasia that characterized our major national problems. We need to sum up love of our fellow Nigerians. Such sympathies will compel us to embrace ideas to forge a strong economic and political growth for all Nigerians.
"We must have the boldness to embark on hard work, progressive reforms for material reality. The past calls for present and future planning. Where we stand today as a nation is the child of what we did or failed to do in the past. If we have to build towards a better future, we must do an accurate recounting of that past.
"We must ask what type of Nigeria will Nigeria be ten years to come, if we must give a good reply to that?, we must begin to prepare today, we must speak out on what we must do as Nigerians to construct a better future and life for all. Our successes and failures belong to all of us.
"This is not the time or place to apportion blames instead a time for retrospection and problem solving. If we refuse to cure the wound when the pain is very less painful, due to selfishness and greed on how to resolve our common problem, we will pay dearly for it.
"Our politics has been directed to wrong things as a result of this; our economy has gone so bad. We cannot fool ourselves with promise that the prices oil will rebound and things will return to normal. We must fashion a new economy in the face of the present recession. The end of recession does not translate to beginning of prosperity."
en
SOURCE :The Nigerian Voice (politics)