"To win 2019, we must go back to God in prayers and thanksgiving" – Amaechi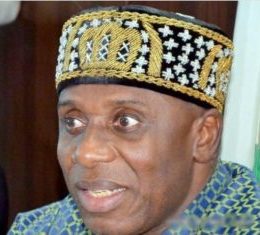 Nigeria's Minister of Transportation, Rt. Hon. Chibuike Rotimi Amaechi has urged everyone in his political circle to rededicate themselves and restore their commitment to God ahead of the 2019 general elections.
Amaechi spoke while testifying of his 'miraculous' emergence as Governor of Rivers State in 2007 during a special thanksgiving service to mark the 10th anniversary of the Supreme Court judgement that declared him Governor of Rivers State, held at the Abundant Life Evangelical Mission (ALEM) in Port Harcourt, Sunday.
He re-lived his ordeal at the time and how God showed up for him when all odds were against him.
"The truth is that we believed God. Some who didn't believe left us just as they are leaving now. God told me that what he will do in Rivers State will tingle the ears, and I believed. We were so broke, we could not pay legal fees or children's school fees. My wife prayed every day and night. I was fasting and praying for 3 months. I told God 'I have a friend who has money, please make him remember me.' I called my friend and he told me he has been looking for me. I told him I was in Ghana and he asked for my account… He sent me Two hundred million naira. This is just to tell you that I believed God and he answered me," Amaechi said.
He wondered why many of his friends and political associates whom he helped one way or the other have turned on him. But he noted that it is God's way of creating a vacuum for the youths to take charge.
He also advised the youths to be of help to people around them when they are in positions of power.
"We must all go back to God in faith and prayers. Those who want to leave can go. I have come to understand that God passes us through these challenges to prove himself. Now that they have left, for me, this is an opportunity for the youths. It is your turn. You must ensure that we get to power for you to fill the vacuum left.
"I have sometimes asked God, 'why do you use me to bless people and after blessing them, they run away.' Count how many people in Rivers State politics today that I did not help somehow. I don't want to take the glory away from God. So for those who left, may God bless them.
"When you get your own appointment, also put somebody. Allow God to use you and leave the rest all up to him," Amaechi advised.
On the 2019 elections, he continued, "if we don't pray, 2019 will be very far from us. If we don't win 2019, it would be your fault, not anybody else'. We go to God because he answers. We pray, then go home and work. Back then, even in my fathers house in the village there was a prayer team…"
During his sermon, General Overseer of ALEM, Apostle Eugene Ogu recalled the travails of Amaechi in 2007, how he cried at the altar and how God used him to make a statement in Rivers State.
He said, "making a man who did not participate in elections governor is one act of God that can not be erased in the history of Rivers State. God is in charge of this state, that is why the conspiracy of evil ones cannot stand.
Apostle Ogu admonished the congregation to do good and avoid evil communications, because "what you sow, you shall reap. If you are paid to kill people, somebody will kill you without collecting money. If you use your pen to lie against people, if you blackmail people, one day somebody will 'blackpaint' you."
en
SOURCE :The Nigerian Voice (local news)