Total/fortis Mfb Mentoring Seminar: Providing Sustainable Strategies For Sme Development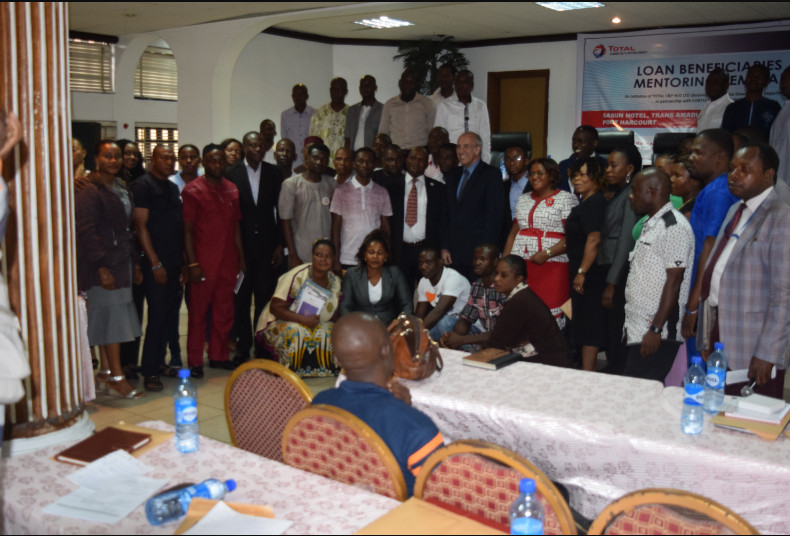 Sustainable SME's and entrepreneurship development as part of Corporate Social Responsibility has been identified as better strategies to help develop the people, curb restiveness, ensure conflict resolution and guarantee peaceful co-existence between international oil companies (IOC) and their host communities in the Niger-Delta region.
This was the consensus as Total Exploration and Production Limited (TEPNG) in collaboration with Fortis Micro Finance Bank (MFB) organized a one day Business Mentoring Seminar at the Sasun Hotels in Port Harcourt.
Making his opening remark the TEPNG's Business and Enterprise Development Manager, Philippe Desriac said the mentoring seminar was to further equip beneficiaries of the Total loan scheme to SME's and update them on new ideas and strategy to sustain their businesses. He said Total have worked hard over the past two years to establish a strong valuable loan program for the Egi land, one of the host communities of Total. The company's mandate according to him has always been the promotion of economic development of the Egi community and creating valuable dialogue with Egi people and to tear down local and global barriers and build bridges between Total, Egi men and women.
"We all have both the ability and the responsibility to make a great deal of difference by promoting development and economic empowerment, providing the knowledge needed to face challenges, by achieving sustainable development and breaking the barriers to economic growth. This is exactly what this program is all about", he said, adding that as borders disappear, the freedom of movement of people and business can grow at a spectacular pace. "In today's open society, Total and FORTIS can and will play the crucial role of developing and providing the latest knowledge that is needed and that is why we are today together" says Desriac.
The event also witnessed presentation by Fortis Micro Finance Bank, who elaborated on the topic: Day to Day Cash Flow Monitoring presented by the Executive Director Business Development. He tolld participants that in business we don't need the money but what we need is financial discipline. He said how we manage our cash flow affect our business adding that 82% of our businesses fail due to poor cash flow management. He said if our business must survive, we must employ those that add value, discard things that are not relevant, reduce any overhead cost, build partnership, finance from microfinance institution and organize your cash inflow activities.
Port Harcourt Chamber of Commerce also made valuable presentation at the Total/Fortis Business Mentoring Seminar. The PHCCIMA President represented by elected council member, Mrs Edughom Hanson made sterling demonstration on ways to develop new businesses and access new market. She said Port Harcourt Chamber of Commerce has a major objective of also mentoring and ensuring that businesses thrive. She elaborated on ways to develop a new business, she said business has become a career path and it is important if you want to develop it to know that everyone goes into business to add value and to meet a need. According to her, if we lose this fact our business loses. We must identify opportunities, be committed to our business, be prepared to take risk and continue to develop new ideas, new capacities to be more effective and efficient and build on the old ones. She also disclosed that a very successful business must have passion and imbued with integrity. Mrs Hanson explained that we must belong to relevant organization like the chamber, source for business information, collaborate and build partnership, leverage on new contacts, deliberately plan, focus on new capabilities and consistently deliver on promises and implement our plans.
Mr Ofon Udofia of the Institute of Export Operations and Management in his presentation titled Access to new market and business development said the best investment in the country is investment on human capacity development, especially on rudiments for developments of SME's. According to him SME is key to providing unemployment solutions and provides sufficient potentials for growth and stimulation of the economy even as he emphasized in taking advantage of the potentials in export business..
Udofia reiterated that there is huge potential in export, but however maintained that you don't just crash into it, you must go through statutory and required ideologies to build capacity, develop products to breach the need and take advantage of the need value. He said we must focus on the need for quality and competitiveness of goods to meet global standard, harp on specialization to encourage expertise and also adapt to the need of the environment in packaging our products. Although he said Export has it challenges like the huge gap in infrastructure, cost of energy among others the benefits according to him is always huge and enormous if you leverage on the opportunities inherent in the institute of export promotion which makes it more seamless and and more educative.
The event featured a cross section of beneficiaries from Total SME Development and loan scheme who testified that the effort of the multinational oil giant is commendable in the area of empowering and supporting the host community sustainably.
SOURCE: The Nigerian Voice (local news)