Troops Repel Boko Haram Attack in Bama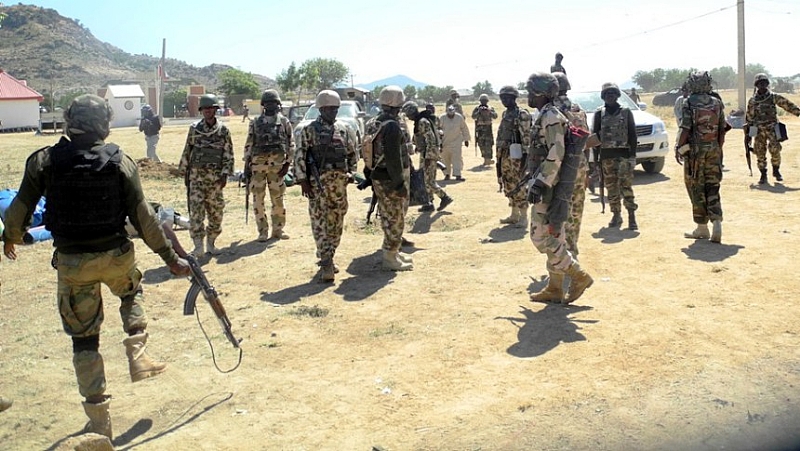 By Ahmed Abu, The Nigerian Voice, Maiduguri
According to security sources, some gunmen in dozens suspected to be members of the Boko haram insurgents made an attempt to infiltrate Bana town early morning Friday before the Subh prayer period but the attack was repelled by the Nigerian troops.
A military source based in Bama confined in The Nigerian Voice that " actually the BHTs wanted to penetrate into the town to cause havoc, but unfortunately for the the terrorists, the soldiers were ready for them and gave them a serious fight that lasted for more than an hour".
"Yes. There was an attempt by BHTs to penetrate Bama early hours but our gallant troops repelled it.
" Actually, the battle could hace disturbed the residents of Bama or anybody around the area as it took us up to about 5:00am, the subh prayer period."
However, a resident of Bama, Goni Modu Aisami, a trader at the Bama new market told our correspondent on phone that ," We were sleeping when gunshots and rockets sound woke us up from sleep".
" In fact we could not go back to sleep again up to sallah period, Subh prayer when things began to cool down".
" We did not see the BHTs but saw soldiers patrolling, moving up and down, street by street, in their patrol vehicles within the town while at the extreme entrance and exit of the town, we were hearing serious bomb shells and gunshots.
"Yes. We were scared and afraid that the BHTs could come into town and kill us or burn Bama town again. The nature of the sporadic gunshots and shells from the exchange between the BHTs and soldiers was terrible and horrible.
" We really thank God that it is over now and every where is clam. Things are normal now and people have started going out to open shops and stores in the market but movements in the major streets of Bama town is restricted except for those of us that will be going to Friday Jummaat Congregational mosque at the Shehu of Bama palace later.
"We thank the military for their efforts and bravery and we will continue to pray Allah to protect and guide us all, especially, at the Jummaat mosque. We will do a special prayer for everybody, for peace and tranquility in Bama, Borno state , north east and Nigeria as a whole," Aisami said.
So far, there is no report of casualty from the attack as both the military and police authorities could not make any official statement on the incident as at the time of going to press.
en
SOURCE :The Nigerian Voice (local news)