Turkey receives 4,000th Nigerian LNG shipment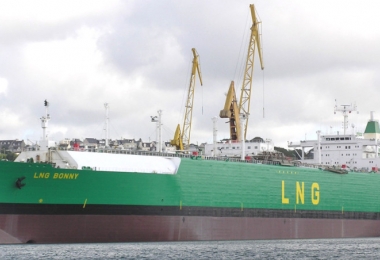 LNG cooperation is very important for economic relations between Turkey and Nigeria. While Turkey imported 1.1 billion cubic meters of Liquefied Natural Gas (LNG) from Nigeria in 2003, it rose to 1.5 billion cubic meters in 2015, Turkey's Ambassador to Nigeria has said.
Placed ninth in the world with its 5 trillion cubic meters of natural gas reserves, Nigeria is an important natural gas supplier for Turkey after Algeria in Africa.
Melih Ulueren, told Turkey's Anadolu Agency that: "We have been importing LNG from Nigeria through Petroleum Pipeline Company (BOTAS) since 1999. Hence, Turkey has recorded its 4000th shipment of LNG from Nigeria.
Saying that he visited the Nigerian Liquefied Natural Gas (NLNG) facility in Bonny Island under a programme, he underlined: "We met with NLNG General Manager Tony Attah and Deputy General Manager Sadik Mai-Bornu. We analyzed Nigeria's works in the field of natural gas and planned to take steps for improving relations between Turkey and Nigeria."
Ulueren said: "BOTAS signed several agreements to diversify suppliers in energy imports for providing supply security and raise flexibility in imports. Turkey started to import LNG from Nigeria in 1999."
Tony Attah, CEO of NLNG, noted that Turkey has been purchasing LNG from Nigeria for 20 years. Touching on Nigeria's importance in the LNG field, he said: "Our company was founded in 1989, after 10 years in 1999, we started to produce LNG in Nigeria. Our works continue in the plant in Bonny Island."
Saying that the company wanted to develop relations with Turkey in the LNG field, Attah said: "When we started to produce LNG, Turkish company started to buy LNG by trusting us. This confidence is very important and we appreciated it. Turkey-based BOTAS is one of our important customers. We are ready to sell more LNG to Turkey."
Ibe Kachikwu, Nigeria's minister of state for petroleum resources, said last month that Nigeria aims to raise its rank from 4th to 3rd after Qatar and Australia by making a $7 billion additional investment.
As of 2015, Nigeria could produce 50.1 billion cubic meters of natural gas while it has reserves of natural gas worth 5.1 trillion cubic meters.
Earlier this year, President Muhammadu Buhari signed a natural gas pipeline with Morocco which is expected to be completed in 25 years. Nigeria targets to meet sub-Saharan Africa and European countries' natural gas requirements.
Source:
M&P, Anadolu Agency
en
SOURCE :The Nigerian Voice (local news)