Umahi set to prosecute electoral offenders.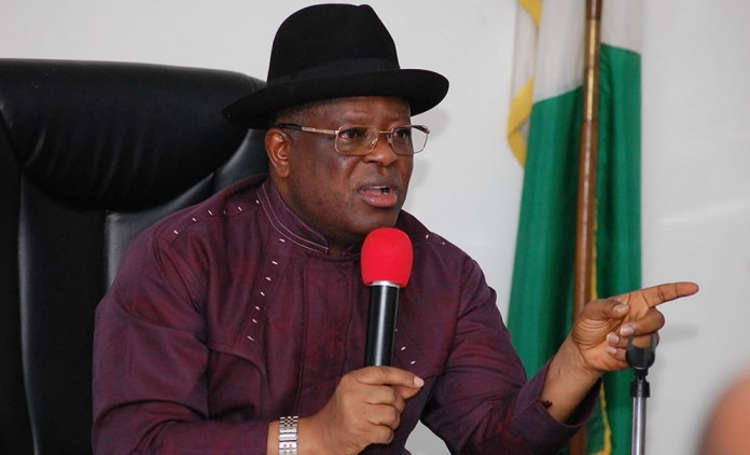 Ebonyi state Governor, Chief David Umahi has reiterated his determination to prosecute all electoral offenders irrespective of who is involved.
The Governor made this known in Independent Electoral Commision (INEC) office, Abakaliki in Ebonyi state in the event of issuance of certificate of Return to Governor Umahi and his Deputy, Dr Kelechi Igwe.
Governor Umahi who said that he has directed that the list of offenders be sent to him maintained that he will carry out the exercise for a better Nigeria and anybody who goes contrary to the rules would face the law of the land.
He decried the number of people who lost their lives during the election and called for the ammendment of the electoral law to accommodate electronic voting and urged the House of Senate to resend the ammended electoral law to the state to make inputs.
"I will prosecute all electoral offenders no matter who is involved. I will do it for a better Nigeria. I have directed that the list be submitted.
"If we can use our ATM card to withdraw there shortage alli, there shortage alli, there shortage alli, there shortage alli, there shortage alli, there shortage alli. money, we can pattern our election towards technology. Look at the number of people that are being wasted. We must rebuild this nation".
Earlier, the Resident Electoral Commissioner, prof. Godswill Obioma explained that issuance of Certificate of return is the peak of democracy and symbol of choice of the people.
Prof. Obioma stated that INEC gave Ebonyi state free,fair and credible election, adding that before the election, they tranversed the lenght and beadth of the state senstizing the people on the need for their voters registration.
Also speaking,the administrative secretary to INEC in Abakaliki, Mr Andy Ezeani lamented that out of 1.5 million voters who registered, only 480,000 persons which is thirty percent of the registered voters came out to vote,urging the Governor to make it as a legacy for people to come out to vote.
en
SOURCE :The Nigerian Voice (local news)