Umahi's acceptance to contest in 2019 the best Easter gift to Ebonyians – NGO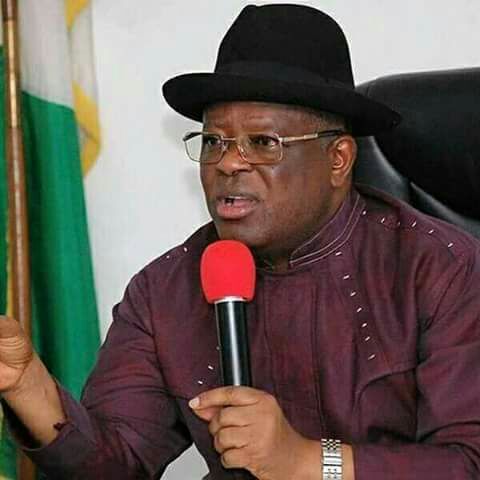 The acceptance of the Ebonyi State Governor, Engr. Dave Nweze Umahi, to seek re-election during the 2019 general elections has been described as the best Easter gift to Ebonyians.
"The people of Ebonyi couldn't have asked for a better Easter gift from their performing Governor. The Akubaraoha & Ome Nke Afurunanya 1 of Ebonyi State has exceeded the expectations of Ndi Ebonyi in his less than two years in office and the best option is for him to continue his good job in 2019," the David Umahi Nweze Akubaraoha Ebonyi Transformation Agenda (DUNAETA) said in a statement issued on Thursday in the state capital, Abakaliki.
The Non-Governmental Organisation recalled that, since 2016, Ebonyians have collectively and jointly clamoured for Engr. Umahi to seek re-election in 2019 in order for him to continue with his revolutionary agenda. Engr. Umahi finally yielded to the pressure on April 1, 2017 at the Abakaliki Township Stadium, when Ebonyians came out enmasse, with the traditional rulers uniting to confer the titles of Ome Nke Afurunanya 1 and Oso Di Eme 1 of Ebonyi State on Governor Umahi and Her Excellency, Chief (Mrs.) Rachael Umahi, respectively.
"As we congratulate our great leader and his amiable wife for these new titles and honour, we thank him specifically for heeding the call by Ebonyians at home and abroad to contest the 2019 gubernatorial election, which we believe he shall win with a landslide by the grace of God," DUNAETA said in the statement signed by the Founder and President, Lady Monica Eze aka Ada Ebonyi.
The group wishes all Ebonyians the blessings of the celebration of Easter festivity andurged them "to unite and ensure that we massively campaign and cast our votes for Governor Umahi come 2019 to enable him sustain the ongoing revolution in Ebonyi State until 2023."
Lady Monica stated, "With this development, the defection of Chief Martins Elechi erstwhile Governor of Ebonyi State to APC makes no meaning as the Ebonyians are satisfied with the great revolution currently going on in Ebonyi State through Engr. Dave Nweze Umahi's administration."
SOURCE: The Nigerian Voice (local news)