UN Seeks More Support For IDPs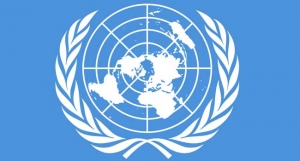 The International Human Rights Commission of the United Nations has called on well-meaning individuals, to continue to donate towards the welfare of the Internally Displaced Persons across the country.
The Governor General for Africa, International Commission of Diplomatic Relations of the United Nations, Joseph Rankin, made the appeal after a short award presentation ceremony in honor of Governor Ifeanyi Okowa at the Government House Asaba, the Delta state capital
He called on the Nigerian government and the international community to take urgent humanitarian measures to save lives and ensure the protection of the multitude of IDPs especially in the north-east region of the country.
"The IDPs need support, there are IDP's everywhere especially in Africa and we must do what we can to continue to support them".
He stressed the need for the promotion and protection of human rights embodied in the universal declaration and other United Nation's human rights instruments.
The delegation further lauded the job creation opportunities through the skills acquisition programme of the Delta State government, as a significant measure to solve the unrest in the region.
A member of the delegation, Ahura Innocent explained that "The governor was carefully selected by a special committee comprising of the General Assembly members of IHRC and the Economic and Social Council of the International Commission of Diplomatic Relations, Human Rights and Peace. The creation of job opportunities through skill acquisition programme of the state government will make the beneficiaries millionaires within a decade".
Bagging the prestigious order of the Pride of Africa and the 2016 Mandela Medal for a long walk to freedom awards, Governor Ifeanyi Okowa reiterated his commitments towards the promotion of good governance that would uphold the rights of the people, adding that the peace building efforts of his administration had started yielding positive results.
"There is no doubt that in Africa, particularly Nigeria and our dear state, the issue of poverty and underdevelopment in the land has to be addressed; it may not be possible to address everything in one day or two, even in a year or a tenure but we must continue to play the very little roles that we can consistently play and stay focused on the goal, if we must get our people out of where they are at the moment and continue to promote good governance,"
SOURCE: Channels Tv