UNDP Resident Representative in Nigeria Tasks Lake Chad Governors On Stabilization, Peace Building and Conflict Prevention In Lake Chad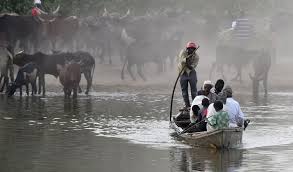 By Ahmed Abu, The Nigerian Voice, Maiduguri
The UN Resident and Humanitarian Coordinator and UNDP Resident Representative in Nigeria, Ambassador Edward Kallon has appealed to the members of the Lake Chad Governors Forum, UN, international community and humanitarian as well as development partners to enhance effecitve cooperation around the stabilization, peace building and conflict prevention in the lake chad basin.
He also said that the presence of UN, international community, governments and other humanitarian partners in Maiduguri at the first Lake Chad Basin Governors Forum held in Maiduguri was a firm demonstration of the collective resolve of the Lake Chad member states and the international community to ensure that the current challenges of the region were turned into opportunities for a new dawn.
Speaking at the LCBGF first meeting Tuesday, held at the multi puroaise hall of the Government House Maiduguri, the UN Resident and Humanitarian Coordinator added that despite that progress made in insecurity and humanitarian activities in recent years in the region, there was the need for more to be done to assure the people of the Lake Chad Basin of their safety, human rights and dignity, livelihoods and prosperity for the future.
He noted that the people of the region have suffered for so long and there was the need to redouble our collective efforts in addressing the underlying causes of the crisis.
According to him, based on the recommendations from recent consultations or discussions with over 1000 people across the region, affected communities are urged to participate and contribute in finding a lasting solution to the crisis and their voices must be heard.
Appreciating the initiative of the Lake Chad Basin Governors to establish this forum in strengthening dialogue, information exchange and coordination and collaboration in cross border initiatives , he hoped that the forum will enhance the effective participation of local communities in defining pathways to the crisis.
He said this crisis cannot be solved through unitary approach. There must be a multi printed approach like humanitarian, development, peace and counter terrorism approach as triple nexus including the engagement of traditional and community leaders as well as the civil society in finding a solution to this crisis.
Kallon thanked the federal government of Nigeria and Borno state government for hosting the first lake chad basin governors forum while appreciating the governments of Cameroon, Chad, Nigeria and Niger Republic's for the partnership around the initiative as well as the governments of Germany, Sweden Norway and other partners for their financial support.
en
SOURCE :The Nigerian Voice (politics)