Uneasy calm in Kano over Kwankwaso, Ganduje, Shekarau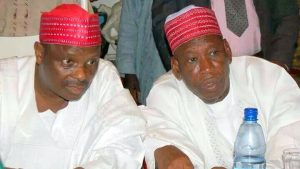 Kano State has a unique political trend when compared to other states in northern Nigeria as it has the highest level of grassroots political participation where people are into politics based on commitment and conviction as against other places where people follow the highest bidder. This is one of the reasons politics in Kano is more dramatic than it is anywhere else.
Currently, in Kano, the tussle between the two major parties of the broom and the umbrella has heightened following last week's decamping of a major political player in the state, Senator Rabiu Musa Kwankwaso, who moved from the ruling APC to the PDP.
At the moment, the APC, the ruling party in the state, under Gov. Abdullahi Ganduje, has a firm grip on the state even as Kwankwaso's movement to the PDP didn't come with the expected grand tsunami.
Yes, there were patches of supporters of Kwankwaso who have moved along with him to the PDP by hosting rallies and burning brooms. But there were also patches of those formally supporting Kwankwaso who have also held rallies of burning the red cap, signifying that they are no more with Kwankwaso.
The PDP in the state is led by Mallam Ibrahim Shekarau who welcomed Kwankwaso to the PDP but with the condition that he abides by the principles of the party. The condition is believed to have come because Kwankwaso is alleged to have the domination trait. It is alleged that as he joins the PDP, he may end up finally controlling and having the final say on the party in Kano.
The unfolding development has the capacity of limiting the stature of Shekarau.
For this reason, to enhance the grip of the APC in the state, the ruling party might consider negotiating with Shekarau to break the political romance between Shekarau and Kwankwaso in order to weaken the PDP. They can even try to bring Shekarau back to the ruling APC.
It is no news that Kwankwaso and Ganduje engaged in a tussle for supremacy even as they belonged to the APC following which reconciliation moves were initiated, including by the Presidency but all to no avail.
Kwankwaso, with his political movement, can influence the choice of a popular candidate, such as the son of Ambassador Aminu Wali, a PDP stalwart in the state, Alhaji Sadiq Wali, as the party's flag bearer in the 2019 governorship election.
• Vanguard
en
SOURCE :The Nigerian Voice (politics)