UNIOSUN VC implores Students to pay tuition fee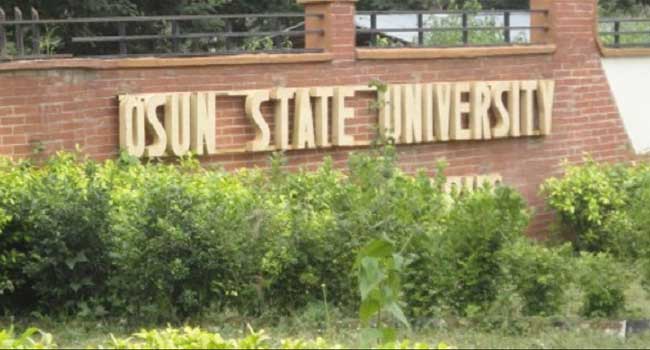 By Nofisat Marindoti, The Nigerian Voice, Osogbo
The Vice Chancellor of Osun State University (UNIOSUN), Professor Labode Popoola has implored the students of the institution who have not paid their school fees to make the payment within the stipulated time or cease to be students of the university.
Speaking at a stakeholders meeting comprising the management team of the university, UNIOSUN Parents Forum, staff unions and representatives of the students, the VC said majority of students owed school fees.
He threatened to implement the 'no tuition, no exam' policy if the debtors refused to pay.
Popoola said even if the entire students paid their tuition fees, the whole money would not be sufficient to pay the salaries of the staff of the university and the university could be at the risk of extinction if the habit and culture of non-payment of school fees by the students persist unabated.
His words "Even if all our students paid their school fees, we will have a little over N1billion revenue in a year whereas that money cannot pay salaries of our staff alone. Of course, we still need money to do other things including the municipal services on our campuses.
"It is strange that many students refused to pay tuition fees and this is certainly not acceptable anywhere in the world. Any student that failed to pay school fees within the stipulated time would cease to be our student's henceforth." the VC said
Popoola said "We would be compelled to enforce the regulation which stipulated that any student that failed to pay school fees for 2 semesters will cease to be a student of UNIOSUN. We shall implement the 'No school fees no exam policy'.
"We are in the 6th week of this semester; any student that failed to pay within the stipulated period will not be allowed to attend lectures from June 13. Please don't come to classroom if you are yet to pay your school fees." Popoola told the students.
The Chairman of the parents' forum, Justice Jide Falola urged the students who have collected the schools fees from their parents to ensure that they pay it to the account of the university.
Falola who was represented at the meeting by the Vice Chairman of the parents' forum, Mr Niran Ojo pleaded with management of the university to extend the deadline for the payment to enable the debtors make the payment.
Some of the students who spoke during the meeting said the economic recession hampered them from paying the school fees and pleaded with the management of the institution to extend the payment period.
Some of the students that attended the meeting said if the management extends the deadline for the payment; a large number of students would pay their tuition fees and also pay for the late registration.
en
SOURCE :The Nigerian Voice (local news)