US Warn Nigerian Politician "We Will Arrest And Jail Any Nigerian Who Rig 2019 Elections".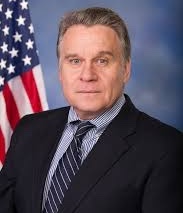 The chairman of the United States House Foreign Affairs Affairs Subcommittee on Africa congressman Christopher Smith, has pleaded with Donald Trump to sanction any Nigerian official who disrupt the 2019 electoral process.
He issued a statement concerning the 2019 general elections, zeroing in on the North East violence which he believes is 'largely attributable to Fulani extremists.' He states: "I am very concerned by the current trajectory in Nigeria, Africa's largest democracy and economy, and President Muhammadu Buhari's apparent crackdown on non-violent protests and harassment of opposition leaders, such as freezing the assets of opposition vice presidential candidate Peter Obi and the raiding of the home of two sons of opposition candidate Atiku Abubakar.
"I call upon the Independent National Electoral Commission to ensure that elections will be free and fair, and for the Commission to remain impartial.
"I further call upon President Buhari to use his authority to end the violence perpetrated by Fulani extremists, particularly in the Middle Belt region, and question why he has failed to do so.
"I also urge the Trump Administration to monitor the evolving situation closely, and not to hesitate to use its sanctioning authority to hold accountable any officials who subvert the electoral process or foment violence against citizens."
Smith chaired a hearing on Nigeria on December 13, 2018, entitled "Nigeria at a Crossroads: The Upcoming Election."
It may be recalled that the Buhari administration denied the allegation of freezing Peter Obi's assets, while it also said that it was the home of the son of a former Governor of Abia State, Senator Theodore Orji, that was searched by the operatives of the Economic and Financial Crimes Commission, and not that of Atiku Abubakar's two sons as alleged.
en
SOURCE :The Nigerian Voice (local news)