We will discipline those who rebelled at Maiduguri International Airport… Gen. Dikko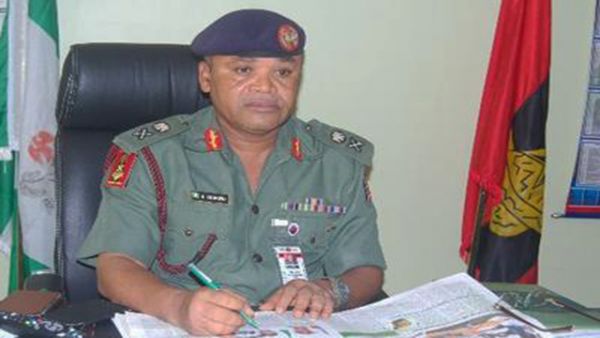 By Ahmed Abu, The Nigerian Voice, Maiduguri
The Nigerian Army has said that the soldiers who recently protested at Maiduguri International Airport will soon be disciplined in line with the rules of engagement of the Nigerian Army.
It will be recalled that two weeks ago, some soldiers rioted at the airport over their redeployment to the war front or battle field at Matte and Abadam LGAs of Borno State against Boko Haram insurgents.
Speaking at a programme in Borno at the Weekend, The Theater Commander, Operation Lafiya Dole, Major General Abba Dikko said, "mutiny is an offence that attracts penalty."
"We don't punish in the military. We discipline. Discipline is the bedrock of the job. If there's no discipline, then we can't have an army. So, if a soldier errs, he must be corrected", Dikko said.
General Dikko further reminded the soldiers involved in the riot act at the airport to remember the oath they took during their recruitment pointing out that, they voluntarily joined the military, not that, they were forced to join the military .
"You have decided to put your life on the line for the territorial integrity of Nigeria. So it is very important that we are reminded of our roles and responsibilities to the nation and our responsibility to the society,.
"Most importantly, our responsibility to ourselves because we are not a conscript army. We are a regular military. Those who have volunteered to serve and that is the only time you will volunteer.
"Subsequently, having offered your service, it is the responsibility of the service to deploy you where they find you appropriate. So it is important that we continue to retain our professional comportment so that we can serve diligently," Dikko added.
" It's important that we uphold the values and ethics of the system that we belong to. It is also important that we understand it is a service to our fatherland. It is not a service to ourselves.
"The bedrock of your service as a soldier is discipline. A soldier must remain disciplined at all times. A soldier must obey instructions," Dikko said. .
en
SOURCE :The Nigerian Voice (local news)