West Ham boss Manuel Pellegrini: Toure considered Hammers move in summer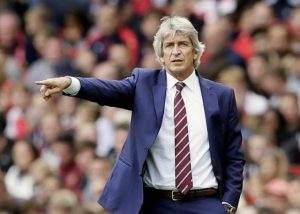 West Ham manager Manuel Pellegrini has hit back at Yaya Toure's agent and claimed he turned down the chance to sign the midfielder this summer.
Toure, available on a free transfer, was heavily linked with a reunion with his former Manchester City boss but Pellegrini decided to look elsewhere.
Toure's agent Dimitry Seluk this week aimed a dig at bottom-of-the-table West Ham when he announced on Twitter that Toure was having a medical in London.
Seluk wrote: "It's not West Ham, 100 per cent. Yaya is a champion. The last place is not for him."
Pellegrini, who brought in nine new players before the transfer window closed, responded: "The words of the agent of Yaya were unfortunate. Because I spoke with Yaya, I know how I appreciate him as a person, as a player.
"I think he is a very good player. In the moment that we were doing our squad list, that position was covered by other players.
"We needed money to bring in other positions, so I explained to Yaya clearly why he cannot come here but I hope he will find a good club, a big club, because he is a very good player.
"I spoke with Yaya. He wanted to stay in England. When I was at Manchester City, he received an offer away from China, but he always told me he wants to stay here in England.
"He continues to try to be here. I suppose West Ham was one option. For me as a manager also. But unfortunately that position was covered by other players."
West Ham face Wolves on Saturday desperate to pick up their first points of the season following three straight defeats.
Pellegrini added: "It's the second game at home, we lost the first one against Bournemouth so of course we must win this one.
"We knew before we start the season before we started we would have tough fixtures, we need points at home.
"We made mistakes in the last home game but now we cannot allow to repeat that."
Striker Marko Arnautovic is fit despite picking up a knee injury against Arsenal last weekend.
Press Association
en
SOURCE :The Nigerian Voice (sport)