Why did the Nigerian civil war break out on 6 July 1967?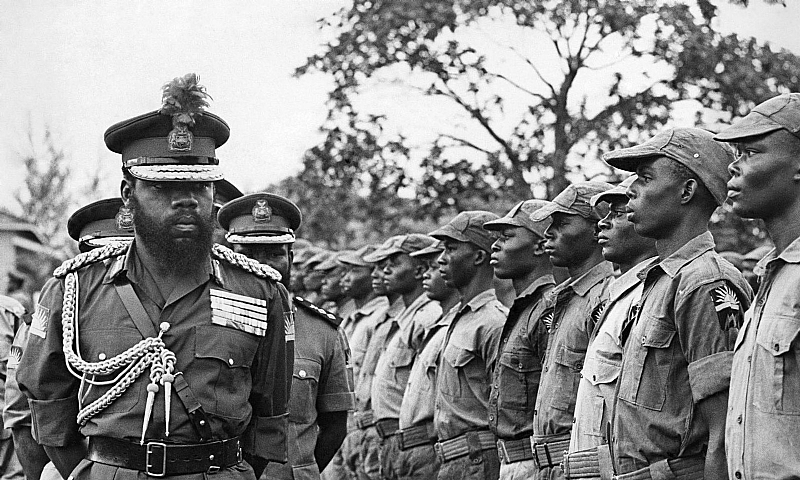 By Henry Chukwuemeka Onyema
The problem, if you ask me, began well before the coups of 1966. It began when the British colonial masters joined hitherto independent peoples with different worldviews for their interest. In the real sense, that is not unusual. Many countries of the world started life that way.
What made Nigeria's case tragic was that our peoples who grew up under the colonial ambit and eventually decided the fate of the new state did three unfortunate things:
those of them, like Nnamdi Azikiwe, who campaigned for a united Nigeria, had little regard for fundamental differences. In the name of all that is reasonable, why would Azikiwe, a learned man who studied and lectured in USA, promote unitary system for a multi-ethnic Nigeria?
Those of them, like Sir Ahmadu Bello and Abubakar Tafawa Balewa, were so fixed on an insular North (dominated by the largely Muslim Hausa and Fulani whose antecedents went back to the sword-wielding jihadist, Uthman Dan Fodio) that they failed to realize that this was a new order. Either they go with other groups as equals and also modernize for the new world colonialism had brought them into or they go alone as a feudal state. No group, in spite of British support for the fedualists, would long submit to their over-lordship. To be fair, they saw the new order as a threat and survival mode kicked in, even if it meant swallowing others.
Those of them, like Chief Awolowo, who clearly saw Nigeria's disparate nature but could not summon sufficient political capital to overcome the divisive tendencies. It is to this group's eternal discredit that they had the greatest achievement quota and potentials such as free education programme but their politics still projected the 'us' and 'them' psyche.
So they laid the foundation and the building collapsed.
If the January coup had succeeded would the war have been avoided? Maybe, but I doubt. The British and Northern elite rattled by the radical soldiers would have gone to extreme lengths to get rid of an Awolowo-led government, and the Yoruba would not take a second beating so soon after the Akintola debacle. Do not forget Ifeajuna and Co. wanted to free Awo and put him in charge. Be that as it may, the coup failed and Ironsi came to power. Did he stand a chance of putting back humpty-dumpty? Anyone can blame Decree 34 and the non-execution of the plotters but from day one, Ironsi's presence at the State House was a threat to certain interests. The general himself was a political illiterate.
Accuse Colonel Odumegwu-Ojukwu of seeking a personal kingdom and going all out to achieve it. Accuse Colonel Gowon of doing nothing to stop the 1966 massacres, selling out on the Aburi agreements and being a pawn of the Northern Establishment. But the story is far deeper than that. The records are there: Ojukwu called for peace following the first wave of massacres in May 1966 AND PERSUADED HIS PEOPLE WHO FLED OTHER PARTS OF NIGERIA TO RETURN HOME.HE HELD OUT IN DECLARING BIAFRA TILL IT WAS VIRTUALLY IMPOSSIBLE. AS FOR GOWON, HE WAS LOCKED IN A POWER STRUGGLE THAT BEGAN RIGHT FROM WHEN THE JULY COUP OCCURRED TILL HIS ARCH-RIVAL, MURTALA MUHAMMED, TOOK OVER. The Aburi agreements threatened the Nigerian power base, as seen by Gowon's advisers and masters. But it might have ensured peace.
Finally, if Nigeria must avoid another war, then the entity must be redefined. Nigeria's current federation is a joke. It encourages seeds of discontent that can blossom into a war. What is wrong with a union of autonomous units controlling their resources, largely self-governing and deciding their affairs yet contributing con-sensually agreed aspects to the centre? Call it a confederation, if you like. But it is better than another war.
Henry Chukwuemeka Onyema is a Lagos-based writer, historian and teacher. Email: [email protected]
en
SOURCE :The Nigerian Voice (opinions)