Willian return to form boosts Chelsea ahead of Bournemouth clash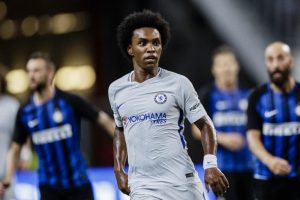 Few things in life are certain. Death and taxes are, and so is the consistently good form of Chelsea's fleet-footed attacker, Willian. Since the start of the 2015-16 season, the Brazilian has arguably been the Blues' most reliable performer, regularly supplying effervescent displays and chipping in with his fair share of goals and assists. The likes of Eden Hazard and Diego Costa might have grabbed more headlines over the past two years, but they have generated as many negative ones as positive. Willian, by contrast, had not seen his standards slip — until recently.
A player who both Jose Mourinho and Antonio Conte have relied upon to provide the team with zest and creativity has seen a decline in his performances in recent weeks. The 29-year-old began the season in reasonable form and indeed was perhaps the only member of the starting XI to be able to keep his head high after the opening day 3-2 home defeat to Burnley. But despite beginning the campaign in decent fettle, Willian has seen his impact on matches dwindle.
This often happens to those who frequent the substitutes' bench though in this instance he spent the first month or so of the season in Conte's first team due to Hazard's absence through injury. In any case, Willian proved time and again last season just how effective he could be when introduced later in the game, his contributions as important in helping Chelsea to the Premier League title as those of many regular starters. His dip in form came as a surprise and not a pleasant one.
It was therefore extremely gratifying to see him return to his old self in the 2-1 Carabao Cup victory over Everton. On Wednesday, Willian could often be found leading the counterattack and displayed the verve and imagination that had become customary. It was apt that he scored what turned out to be the winner after a well-worked set piece and a sumptuous finish.
Given Chelsea's fluctuating campaign to date and concerns over the depth of the squad, it was encouraging to see the club's 2015-16 player of the year put in the type of display that were one of the few highlights of that dismal campaign. It isn't clear exactly why his game briefly deserted him though there certainly are some caveats that could excuse him.
Daniel Leal-Olivas/AFP/Getty Images
Willian's lethargic non-performance at Selhurst Park was assumed to be due to the extensive amount of travelling he had done with the Brazil national team during their final two World Cup qualifiers. That is certainly credible though it could also be down to an even more understandable reason.
October saw the first anniversary of his mother's death following a long battle with cancer. Willian has spoken emotionally of the toll her loss had taken on him and that he lost as much as 4kg in weight as a direct consequence. With such a memorable date coming into view it would be little surprise that his focus was elsewhere rather than on the football pitch. It's easy to forget that, despite the untold riches available to them and the status to which they are elevated, footballers are still just human beings.
As well as referring to personal issues, that point is also pertinent in another way. Players are not robots and even the very best the world has ever seen have their off days. Lionel Messi's inability to score in eight games against the Blues is proof of that. And Chelsea fans don't have to look too far to see another of their dependable favourites struggling just a bit. Cesar Azpilicueta has established himself as one of the best defenders in England yet he's made some uncharacteristic errors the past few weeks even if he still grabbed a vital goal in the 4-2 win over Watford.
But as with the Spaniard, there were few concerns that Willian's malaise would endure due to that priceless combination of quality and work rate that both players possess. Wednesday night was evidence that such faith was correctly placed. If he is to be deployed in future in a two-man attack alongside Hazard, as he was for a large chunk of the 1-0 defeat to Manchester City, then Willian will continue to find life difficult. Conte, however, seems to have acknowledged that mistake and it is highly unlikely to be repeated. But if Willian is trusted to fill his familiar wide role in a front three, either from the start or from the bench, then Chelsea will always carry a threat.
en
SOURCE :The Nigerian Voice (sport)