Women in plank business accuse agents of Osun government of extortion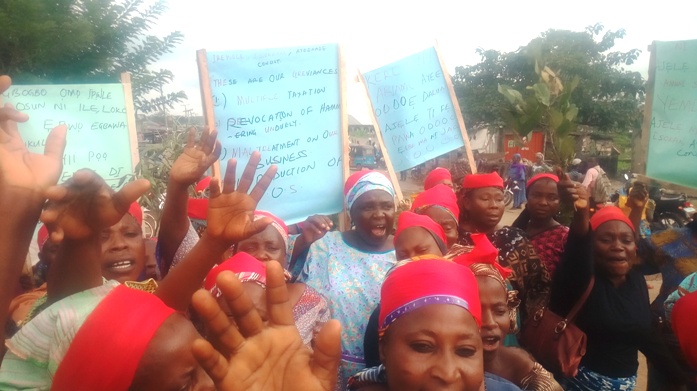 By Olawale Adewale, The Nigerian Voice, Osogbo
Members of the Association of Plank Sellers in Osun State have accused agents of Osun state government of extorting them and jeopardizing their businesses.
The women staged a peaceful protest in Ikire, Irewola local government area of Osun State where they lamented hardship they were facing due to the multiple taxation by government.
The women wore their clothes upsidedown and tied red scarfs on their headgear lamented that their businesses have suffered serious setback as a result of what they called 'fraudulent activities' of the government agents.
One of the protesters who spoke on behalf of others, Modele Bose said the taxes imposed on the plank sellers was too much for them to bear and that the government agents were making life difficult for them.
She said the plank sellers could no longer make money to cater for their needs, particularly to pay the school fees of the wards who have been sent away from their various schools for not paying school fees.
The plank sellers also alleged that the money that the government agents were taking from them were not remitted to the covers of the state government.
They appealed to the state governor, Mr Rauf Aregbesola to intervene and reverse the taxes imposed on them by the agents of the state government.
The plank sellers said the government agents that extorted them became rich very sudden to the extent that one of them known as Yemisi built five houses within a short period.
Modele said "The taxes are too much. We can no longer bear it. From N2,000 that we were paying before, they are now collecting over N20,000 from us. This is not fair. We want the Governor to know about this and reverse it."
The Special Adviser to the Governor on Natural Resources, Comrade Tunde Ajilore said the the women were being used by the opposition party to embarrass the state government.
en
SOURCE :The Nigerian Voice (local news)