Wonder strikes highlight otherwise uninspiring draw between Spurs and West Ham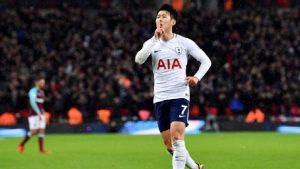 Three quick thoughts from Tottenham's 1-1 Premier League draw with West Ham at Wembley on Thursday.
1. Wonder strikes highlight dour draw
Rarely can there have been a game with two goals whose quality was so disproportionate to the general standard of play. A grim, drizzly night in front of a Wembley with huge swathes of empty seats saw Tottenham and West Ham draw 1-1, a generally turgid spectacle lit up by two utterly brilliant goals.
Pedro Obiang opened the scoring with an unstoppable effort from long range after West Ham had largely frustrated Tottenham's attempts to break them down. But Son Heung-Min salvaged a point for Tottenham with a similarly magnificent effort from way, way out.
Clearly West Ham will be more satisfied with the point, and there were even a few boos from the home fans when the final whistle rang. But perhaps you can't blame either side for their performances after such a demanding recent schedule.
The opening half hour was played out very much like two teams who were playing their fourth game in 12 days. It wasn't quite so much that the 22 out on the Wembley turf looked physically off the pace, but there was a paucity of ideas. Both teams struggled to break through the respective defensive lines, and broadly relied on shots from outside the area: some went close, others way askew, but it was as if the two sides didn't have the mental energy to conjure anything more intricate.
Spurs were the more threatening: West Ham keeper Adrian nearly gifted them a goal in the first five minutes after he and Cheikhou Kouyate got in each other's way, and they did actually have the ball in the net when a Harry Kane cross was deflected in by Winston Reid, but the Spurs striker was offside.
In the final minute of the half, Adrian had to make a brilliant save after a Christian Eriksen shot took a heavy deflection and flew towards the top corner, but the keeper rapidly changed direction and jumped to his left to tip it over the bar. So relatively uneventful was the first half that referee Mike Dean didn't add any stoppage time at all.
The second half followed a similar pattern. Spurs became more and more frustrated and seemed to come up with fewer and fewer ideas to break through the massed Hammers ranks. And then, with a certain sense of inevitability, the visitors took the lead.
Obiang was allowed just a little too much time around 40 yards from goal, but it was so far out it didn't really seem like it mattered. However, Obiang then advanced a few yards and launched an Exocet missile of a shot past Hugo Lloris, who did pretty well to get close enough to feel the ball whistle past his fingers. "One shot, we've only had one shot," sang the gleeful Hammers support.
At that point it looked like Spurs were bereft of ideas and they would be in for an embarrassing defeat, but they hit back with a strike almost as good as Obiang's. A side effect of West Ham sitting so deep in defence was that so much space was free in the 20 or so yards in front of them: Son picked up the ball in that space, but it still required an utterly sensational strike to arrow through the cool Wembley air and into the top corner.
Spurs tried to find a winner, but West Ham stood firm, and it was they who celebrated at the end.
2. Midfield leaves Spurs wanting
When the time came for Mauricio Pochettino to make changes in an attempt to rescue this game, it wasn't a surprise that he replaced Tottenham's entire central midfield.
Eric Dier has not been quite himself for most of the season, a problem he displayed here with a very flat performance, while the less said about Moussa Sissoko the better. Pochettino's attempt at a reclamation project, to get some value out of a player Tottenham paid £30 million for less than 18 months ago, is admirable, but surely that must be over now.
The Frenchman looked back to his worst moments last season, and Spurs fans must hope that he isn't part of their first team for the remainder of the season, or they somehow find a team willing to take him off their hands.
But this represented a wider problem with their midfield. Mousa Dembele remained on the bench, which isn't a colossal surprise given how flat his general play has been this season and his fitness problems. One of the reasons Pochettino retains an interest in Ross Barkley is supposedly because he believes Dembele's best days are behind him.
In this respect the absence of Harry Winks, unavailable thanks to an ankle injury, is perhaps having a bigger impact on Tottenham than you might think. His passing and imagination from deeper in midfield might provide them with a base from which to build their attacks, a base which was entirely missing on the night.
It will be interesting to see whether Spurs address this in the transfer window, or simply keep faith with what they have.
3. Moyes has solidified West Ham vs. big six
There was barely a straight face in the house when West Ham announced that Slaven Bilic's replacement was David Moyes. Here was a man who had failed in his past three jobs, and was a few months removed from taking Sunderland into the Championship; that was inevitable at some point, but it was the way they were relegated, a defeated group of players managed by what looked like a defeated man, football's version of Old Gil from the Simpsons.
But, as it turned out, any portents of doom and calamity were a little premature. Of course, with them barely outside the relegation zone in the first week of January it's a little early to break out the party poppers and "Congrats On Avoiding Relegation" banners, but the very least you can say about West Ham under Moyes is he's made them much more solid.
Or, more specifically, solid against the big clubs. Since Moyes arrived in early November, West Ham have played big-six teams five times, in the league and the Carabao Cup. In those games they've conceded just three goals, held Arsenal to a 0-0 draw, beaten Chelsea and came pretty close to keeping out Manchester City.
And now, Tottenham.
Teams digging in and trying to stop the big teams has become a feature of this season, but Moyes seems to have got it down to a fine art. They have been less secure in games when they have been expected to be a little more offensive (conceding three goals to Newcastle and Bournemouth), but if it's a rearguard action you're after, go see Moyes. Work on picking a few more points elsewhere, and that should be enough to see them comfortably survive.
en
SOURCE :The Nigerian Voice (sport)