Writers Should Stop Copying Prof Wole Soyinka, Other Known Writers- Wole Adedoyin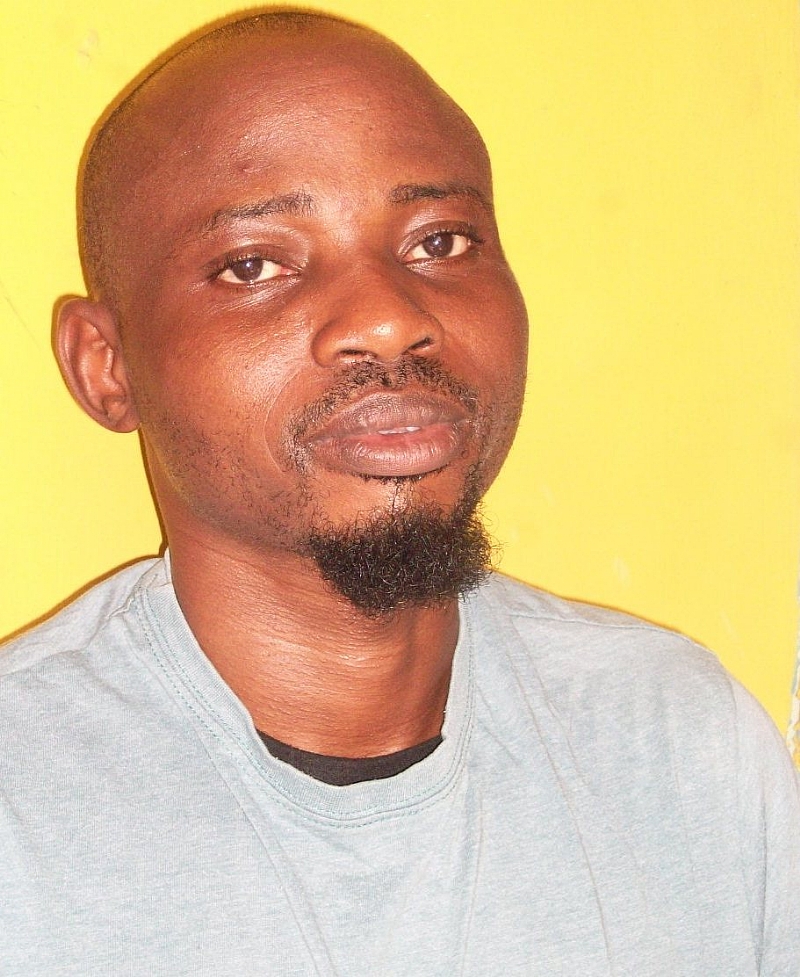 Wole Adedoyin is the President of the Society of Young Nigerian Writers (SYNW) and the National Publicity Secretary, South, of the Association of Nigerian Authors (ANA). In this interview with ABDULHAFEEZ T. OYEWOLE, he speaks on his writing and how it becomes the source of his selfless service to the growth and development of literature especially among young Nigerians.
Can you share with us your background as a writer, then author?
I started writing when I was in secondary school then. But later went professional when I became a financial member of Oyo State branch of the Association of Nigerian Authors (ANA) in 2004 under the leadership of Mr. Anthony Ebika, a former Chairman of the state chapter.
Before joining ANA, I was once the Coordinator of Olaudah Equiano Poetry and Prose Club of Educare Trust Exhibition Centre. We do hold readings on Thursdays of every week. And during such readings, established and known writers do participate to share their writing experience with us. We have featured writers like Dr. Tony Marinho, Ebika Anthony, Femi Adedeji, Abdulsalam el Mubashir, Kunle Okesipe, to mention but few. Also there was a time we featured one American Professor of Poetry when he came for an academic function in University of Ibadan (U.I.).
So, whenever such readings hold I tapped from the experience of such writers. And of course, the Association of Nigerian Authors helped me a lot. During those periods, I didn't miss any ANA monthly meetings. I was always there before any member to help them arrange chairs and do other things. That was when Mr. Anthony Ebika became the Oyo State Chairman of ANA. It was also during this period I came across the current President of ANA, Mallam Denja Abdulahi, when he came to represent ANA President in Oyo state for a literary programme. Though we later met at ANA/GLO/CBAAC Drama writing workshop held at UNILAG when I represented ANA Oyo at the workshop. I think that was 2005 or 2006.
During this period also, I contributed some of my best poems in ANA Oyo anthologies and Agogo, a monthly literary magazine edited by Mr. Anthony Ebika. I still have some copies of these issues. My late dad helped me preserved them in his library. I became ANA Oyo Auditor in 2006 and served till 2008. Later I was elected ANA Oyo PRO for another period of 2 years.
It has been long some ANA Oyo members have hated me not only in Benue. You would recall that they stood against my candidature as ANA National PRO in Benue State when I expressed my interest to contest for that position. Some of them also opposed my candidature when I wanted to become ANA Oyo Auditor in 2006. During this time also I started my personal literary movement known as World of Poets and Literary Society which later metamorphosed into Society of Young Nigerian Writers (SYNW) in 2010.
What's the trigger for your writing expedition?
Happenings around me which also made me to venture into politics. Also the search for qualitATIVE and educative information. Though I've read lots of books, I also did Literature in English during my secondary school days. This also added to it.
How did the Society of Young Nigerian Writers (SYNW) come to being?
I was once asked this same question in an interview with Mallam Ibrahim Adam of the Daily Trust Newspaper. As I have stated earlier (there), the World of Poets and Literary Society in 2010 metamorphosed into the Society of Young Nigerian Writers after due consultations with some literary stakeholders, especially young writers.
In 2010, the Society of Young Nigerian Writers started as an Ibadan literary movement to create an avenue for upcoming writers to share ideas, criticize and network with one another.
SYNW idea was original. Original in the sense that the membership concept is different from ANA. And the fact that it embraces writers between the ages of 9 and 35. It accommodates teen and young writers. We did not draw any member from ANA Oyo then. What we did then was going to the University of Ibadan and the Polytechnic of Ibadan to hold creative writing workshops.
Our programmes like Fagunwa Day and 2000 E-Book project draw secondary schools' students nearer and closer to our Association. The Association however went National when we organized Prof. Remi Raji @ 50 National Poetry Competition. That was 2011 and that was the first time we would have our release published in Nigerian Tribune, The Nation and The Sun Newspapers. We also received entries from International students from 5 different universities in US, UK, Ghana, France and South Africa. Though the competition was divided into two segments: Junior Category (for secondary school students) and Senior Category (for tertiary school students). Winners were awarded monetary prizes. Also, participation and prize certificates were given to all of them.
After the event, our other activities like quarterly workshops, E-anthology project and Fagunwa Day attracted other young writers to join our Society. Later we started having National, Zonal and State coordinators.
What are other programmes and activities of SYWN?
Our programmes are not much due to funding. But in order to carry out all objectives as stipulated in our Society's Constitution, we have earmarked some activities as annual programmes. We also have quarterly events. Some of our programmes/activities are: SYNW quarterly workshop which started in the year 2012 and has trained over 1000 young writers across the country. We have had people coming from far places such as Kano, Jos, Kaduna, Edo, Rivers, Benue and Kwara State. We taught them practicals.
We have taken them to printing press, taught them how to paginate, design book covers and turning their publications into E-Books on the computer (practical approach). We have evidence for all of these. And we do give them Certificate of Participation for any workshop anyone of them attend. And again our E-Anthology has published over 500 young writers through our poetry anthologies. You can download some of these publications on Obooko . One school in Philippines is currently using one of these anthologies as a recommended text for their students. The name of the school is St. Nicholas College.
Our Annual Fagunwa Day event is now in its Seventh year. It has published, recognized, rewarded and awarded over 100 secondary school students from over 40 schools in Ibadan, the capital of Oyo state. The event has also featured eminent personalities in Yoruba literature like the Late Prof. Akinwumi Isola, High Chief Lekan Alabi, Dr. Remi Adedokun, Prof. Bayo Adebowale, Baba Tunbosun Oladapo, Mr. Jare Ajayi to mention but few. Three editions had also had in attendance three children of the late author, Chief Mrs. Sijuwola (Nee Fagunwa), Mr. Dipo Fagunwa and Mrs. Diwura Fagunwa.
Chinua Achebe National Day is another vital project of the Society in honour of the late modern architect of African Literature, the Late Prof Chinua Achebe. The idea was conceived by the Anambra State Chairman of the Society, now the National Secretary, in person of Mr. Izuna Okafor. The annual event has been endorsed by the Anambra State Library Board and the family of the Late Prof. Chinua Achebe. It is an avenue for remembering, celebrating and honouring the late author annually. Now in its third year.
And of course, our annual Read Across Nigeria (RAN) project which started in the year 2016 took readings to 23 states of the federation. The 2016 event was in honour of Dr Wale Okediran, a medical doctor and a former President of the Association of Nigerian Authors (ANA). The 2016 Read Across Nigeria took place only in 23 states of the federation. The 2017 edition which had Hajiya Hafsat as our guest of honour was held in only 10 states of the Federation. The idea behind the project is to take reading to the grassroots.
We currently have three correspondence courses which we have developed to test and enhance the creative writing and reading skills of our members. The courses are Creative Writing Correspondence Course in Poetry, Prose and Drama. D.O. Fagunwa Correspondence Course, to test the abilities of his readers and fans; and JF Odunjo Yoruba Correspondence Course, fully written in Yoruba Language to test the abilities of students in Yoruba Language, traditions and culture.
We also have SYNW 2000 E-Book Digital Library project aim at establishing Paperless book clubs in schools. We have already established over 50 digital libraries and paperless books clubs in some selected secondary schools in Oyo State. Our first edition of the National Week of Remembrance for the Departed writers (NAWRED) took place last year. It was an online event which exhibited photographs and profiles of outstanding and best dead authors from Nigeria. Currently we now have over 200 in our archives.
Another of our programmes and activities is Prof. Ola Rotimi Inter-Secondary Schools Playwriting Competition. The first edition was held in 2014 at the Amphi theatre, through the support of the former Head of Theatre-Arts Department of the University of Ibadan, Dr. Remi Adedokun. The event was bankrolled by my late dad, Late Prof. Albert Aderemi Adedoyin.
We have also compiled the database of eminent authors and writers across the world, country by country. They are currently online in PDF format archived in a blog. We have also designed graphical wallchart posters in JPEG format of famous authors across the world.
What is the Society doing to ensure a lasting reading and writing culture in young Nigerians?
Our activities have been highlighted (above). We have done what we could in our own little ways since the inception of this Society. Our quarterly workshops, E-Anthologies at Obooko , Fagunwa Day, Chinua Achebe National Day, 2000 E-Books Digital Library and Paperless Book Club Project, Correspondence Courses, Read Across Nigeria (RAN) Project, National Week of Remembrance for Departed Writers (NAWRED), Prof. Ola Rotimi Inter-Secondary School Playwriting Competition, We have also compiled and designed database and wall chart posters of world renowned and eminent authors.
Our future projects include: Groom a reader and adopt a writer project, Yoruba Literature Animation project, Indigenous Reading Campaign project, Reading for National Development and Unity (READ-U) which will take us to all the six geo-political zones of the country. We are also currently designing online archives/blogs for some selected writers aim at keeping their legacies and documenting latest literary researches on them. The writers are: Cyprian Ekwensi, Elechi Amadi, Akinwumi Isola, Adebayo Faleti, Chinua Achebe, Ene Henshaw, Supo Kosemani, D.O Fagunwa, J.F Odunjo, Prof. Olabimtan, Buchi Emecheta, Flora Nwapa, Abubakar Imam to mention but few.
How is SYNW funded?
We are funded through donations and dues from members as fully stipulated in our Society's Constitution.
What can you say about your published book; and are you working on any one at present?
I only have one published work titled, "Ojuju and Other Poems for Children". It won ANA Oyo John Asiedu Sarpong Prize for Children Poetry in 2005. It was published in Ibadan by Dei Tempus Press and Publication Agency. I still have like four other unpublished anthologies of poems for children. I'm currently working on a collection of short stories also for children.
What inspired you to dedicate yourself to impacting in young writers and authors?
I am still a young writer. I passed through a lot before even publishing my first poem in a national daily. I have passed through what other young writers are currently passing through. How I overcome the ordeal is what I'm currently giving out to them. And the best way to do it, to my own knowledge, is through SYNW and God has been giving me the grace to continue the good work. Anyone that is above my might. I do refer them to my literary father Dr. Wale Okediran.
What's your perspectives on authorship. In other words, who's an author?
This has been a very serious issue over the years. Normally, an author is a published writer. One who expresses ideas in writing or one who engages in literary work. An author is also a person who writes novels, poems, essays and so on. Mainly, he or she is the composer of a literary work.
The concept is if you are a writer, you can write about other people's thoughts or ideas, but an author has to come up with the idea, the plot and content. You also become an author when your books are published, but if your writings never publish, you remain a writer.
What's your take on digital and traditional publishing and which one is your preference?
Publishing is an industry that is worth looking more closely into, at how the industry has evolved from print format to digital publishing. The traditional publishing refers to the system of getting a book published which involves processes like editing, computerizing (formatting, cover designs, pagination, footnoting, end noting), copywriting, Proof reading and later becomes a book. After this, marketing and distribution comes in.
The advent of Google, Facebook, You tube, Twitter, Amazon's kindle and Apples' iPhone and iPad. The transformation from traditional print to digital has changed the industry for good. Both digital and print have their pros and cons but the real challenge with both of these concepts is trying to maintain and build audience as well as producing content that is engaging and relevant. With ever decreasing attention spans and even more content available, people expect a constant stream of personalized engaging short form content delivered instantly which can be consumed on mobile and tablet.
The beauty of digital publishing is that it makes it very easy to share your favourite poems, prose chapters, essays to spark discussions on social media that creates a much higher reader engagement, build community, and access a lucrative wide audience. Reading from print publications offers a memorable and leisurely experience as you fold pages to save your favourite chapters of lines, opening from page to page and digesting slowly. The problem of this is that once you have read it and put it away, you are like to forget about it.
In SYNW, we utilize digital publishing. 40% of our project were done digitally.
What's your typical day like?
Good and splendid. I am always online 24/7. I'm a professional blogger and web content manager. I update my blogs and manage other social media platforms. I also source for latest information almost every day in case if there is any on the activities of the Association of Nigerian Authors.
How do you balance your task as ANA Publicist (South) and SYNW President?
Well, you cannot serve two masters at a time. You must leave one for another. The success of the current National President of ANA, Mallam Denja Abdullahi, is what I am after. I have handed 80% of SYNW's works to our National Secretary and PRO, in person of Mr Izuna Okafor and Mr Musa Muhammed. They are both outstanding and brilliant literary organizers. If I'm still running SYNW like I have been doing before, I won't be fully committed to ANA's cause.
What's the secret behind all your successful landmarks in your engagements in the Nigerian reading and writing world?
Commitment and dedication in everything I do. Also giving respect to the elderly ones. No matter what you have attained or been in life, there are people ahead of you. I don't underrate anybody. I ask questions if I don't understand. And I mingle with people irrespective of age, colour, tribe, gender, culture, background and religion.
How do you read and write?
I always read from 12:00am to 2:00am on Sundays, Tuesdays, Thursdays and Saturdays. I was brought up that way since when I was a kid. And for writing, I write anytime the inspiration comes.
What draws you to read any book to the end?
The plot, setting and the beautiful words used in such book. Also the connection with what is currently happening in the real life.
Do you have favourite books?
Yes. There are lots of books I starred with different reasons. Christmas Carol and Oliver Twist by Charles Dickens, the Ake and the Trial of Brother Jero by Wole Soyinka, Tenants of the House by Dr. Wale Okediran, Nene and Other Stories by Dr. Tony Marinho, Petals of Blood by Ngugi Wa Thiongo, Animal Farm by George Orwell, Chike and the River by Chinua Achebe, She Stoops to Conquer by Oliver Goldsmith and lastly Julius Caesar by William Shakespeare.
Which should come first in your opinion: writing or reading?
Reading of course. If you can't read you cannot write.
If there's one thing you can do to improve the state of Nigerian writings and writers, what would that be?
Pass the endowment funds for the arts into law. We all need it.
What's your vision for years ahead?
There are lots.
What's your word of advice for young writers and authors?
They should be committed, dedicated, respect their elders and not selfish. Whatever that is not useful to you; if it's useful to another writer, don't keep it: give it out. You will forever be remembered for what you have done in his or her life. And they should stop copying Wole Soyinka and the rest of the known writers. They should be themselves. Be original.
en
SOURCE :The Nigerian Voice (local news)