Yobe Budgets N91.6 Billion for 2019 – Education, Works, Healthcare Take Lion's Share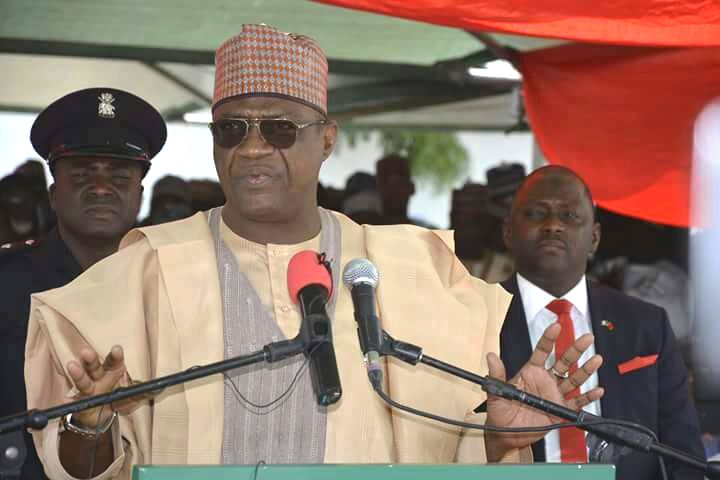 His Excellency, Gov. Ibrahim Gaidam has announced N91, 647, 597, 000.00 as the total amount of money projected to be spent by his administration in 2019 to spur the state to greater socio-economic progress.
"In this budget, we intend to consolidate on the gains recorded so far by completing all the major legacy projects being executed by our administration before handing over to the incoming APC administration in the state…
"We intend to hand over to the incoming administration a government that is free from any loan, that is without any uncompleted capital project, and that has a robust civil service to plan and implement any project", the governor said.
The governor spoke moments ago at the State House of Assembly where he made a valedictory budget address to the lawmakers and presented the 2019 Finance and Appropriations Bills, tagged the "Budget of Consolidation".
H.E Gov. Gaidam said the Yobe State Government projects N49, 968, 967, 000.00 or 54.5 percent for recurrent expenditure and N41, 678, 630, 600 or 45.5 percent as capital spending.
The governor said the 2019 budget is slightly below that of 2018. It is N534, 739, 000 or 0.6 percent less than 2018's, he said.
H.E Gov. Gaidam said the economic sector has been allocated N30, 635, 430, 000, governance sector N17, 473, 893, 500, regional sector (covering water supply, environment and housing) N4, 431, 968, 000, law and justice N2, 298, 887, 000 and the social sector N36, 807, 418, 500.
The governor revealed that education has been allocated the sum of N22, 497, 645, 000 under the social sector. "We will continue to take steps to revitalise education for the progress of our state depends on it", he said.
Education is followed by works, transport and energy at N15, 951, 223, 000 and healthcare, which has a total of N13, 002, 338, 000 budgetary allocation.
While reviewing the performance of the 2018 budget, the governor said that of the 92, 182, 336, 000 projected within the fiscal year ,actual receipts as at November 23 stood at N75, 967, 788, 000 which represents 82.4 per cent of the projected earnings.
He said there was 82.4 percent implementation rate for recurrent expenditure and 40 percent implementation for capital projects.
"The overall budget performance from January 2018 to Nov. 2018 was 61.1 percent. The percentage will increase before the year ends", he said.
Given the progress that Yobe has made so far, "we cannot dare to look backwards", Gov. Gaidam said.
"We are optimistic that the policies and programmes being implemented and the legacy projects which our administration has executed will continue to be strengthened in our state post-May 2019", the governor added.
en
SOURCE :The Nigerian Voice (business)