Yobe EXCO approves N1.966 billion for capital projects execution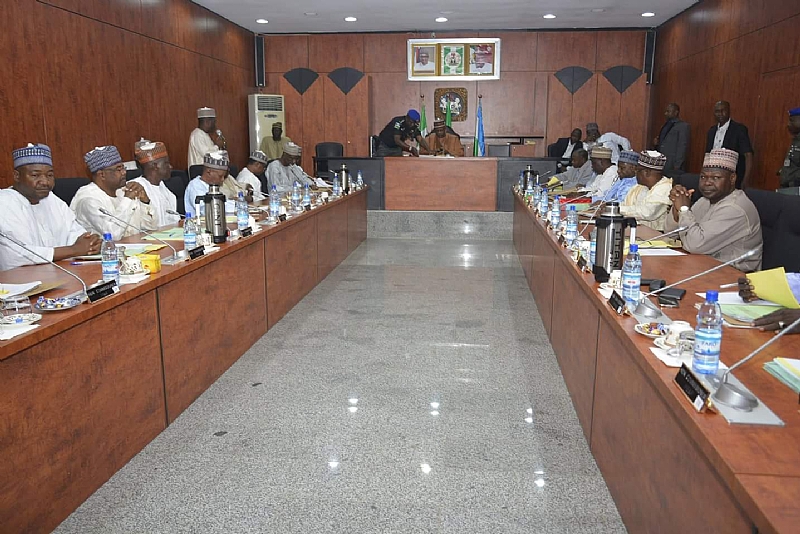 By Ahmed Abu, The Nigerian Voice, Maiduguri
Yobe State Government has acquired GAAT Hotel Damaturu at the cost of N578, 161, 010.43. The Commissioner for Home Affairs, Information and Culture, Alhaji Mala Musti revealed this yesterday while briefing newsmen on the outcome of the State Executive Council meeting, which was held Friday at the Government House, Damaturu and was chaired by Gov. Ibrahim Gaidam.
The commissioner explained that the purchase of the hotel came about when its owners offered it out for sale.
The Housing Commissioner, Alhaji Bukar Dauda, who was part of the EXCO meeting press briefing, explained that the government considered three options for the property, deciding finally that, as the best hotel in town, the government would partner with potential investors to manage it and generate revenue for the state.
The EXCO, according to Mala Musti has also approved the rehabilitation of Ngibi Bridge along Bara-Teteba-Gulani road at the cost of N369, 910, 405.71. The rehabilitation of the vital bridge became necessary as rainfalls threaten its stability and the movement of the people and goods around the area.
Also approved by the EXCO meeting was the construction of 2.23 kilometres of road and 4.46 km of concrete drainage line at Buhari Estate in Damaturu at the cost of N396, 727, 580.00.
The State Executive Council has also ratified the approval of counterpart contribution for health infrastructure development towards the implementation of the SDGs Conditional Grants Scheme amounting to N250, 000, 000.00.
As part of the continuing effort of the state government to support and partner with security agencies to improve peace and security in the state and boost the fight against Boko Haram insurgents, the EXCO also ratified the approval for the purchase of 14 Toyota Hilux vehicles at the cost of N245, 000, 000.00.
The approval for the construction of 3 numbers of 4-bedroom VIP Guest chalets inside the Government House Damaturu at the cost of N126, 714, 147.00.
The total amount approved by the State Executive Council at the meeting stood at N1, 966, 513, 143.00.
en
SOURCE :The Nigerian Voice (local news)