Yobe Govt. Calls On WHO To Support Rehabilitation of IDPs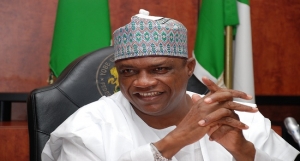 The Yobe State Governor, Ibrahim Gaidam, has called on the World Health Organisation (WHO) to scale up its activities in the state, and contribute towards the post insurgency plans of rehabilitating the Internally Displaced Persons (IDPs) in the state.
The Governor stated this when he received the WHO country representative for Nigeria, Dr. Alemu Wondi at the Government House Damaturu, the state capital.
He said scaling up their activities in the state is required because no government, agency or Non-Governmental Organization (NGO) can on its own handle humanitarian crisis without any assistance.
"As the enormity of the humanitarian crises is monumental that no government, agency or NGO however endowed can handle, we decide to galvanized local, national and global support in addressing the numerous challenges.
"Hence we request the WHO to further scale up its activities in our state and key into our collaboration drive to ensure effective and efficient implementation of the envisaged multi-sectorial post insurgency intervention plan in the state", the governor said.
Governor Ibrahim Gaidam also said scaling up the activities of the WHO and other international donor agencies according to the Governor, will enable the state achieve its set targets of healthier society for a healthy nation.
The Governor revealed that the state recently convened a humanitarian stakeholders retreat on coordination of humanitarian services for post conflict recovery and reconstruction, so as to ensure proper return and settlement of IDPs in the state.
He, however, commended the WHO for providing technical support for the conduct of monthly disease surveillance, review of surveillance focal site and outbreak investigation in the state among others.
The WHO country representative, Dr. Wondi congratulated the Yobe state government for the huge successes recorded in the fight against polio over the last three years.
"Let me congratulate the state for maintaining a polio free state for the past three years and let me put it on record that the polio committee under the leadership of the state Deputy Governor has been doing a fantastic work", the country representative said.
He also described as enormous, the progress made so far in the health sector by Governor Gaidam and the remodeling of the major hospitals in the state, the setting up of the Yobe state University Teaching Hospital, the maternal and neonatal as well as the free medical services for pregnant mothers and accident victims among others.
Dr. Wondi assured to partner the state in improving the health care services across the state in the post insurgency era.
The WHO among several other agencies, government and NGOs have over the years been playing a key role in improving life among the people in developed as well as, developing states in the world.
SOURCE: Channels Tv